Tourism 2020: Saudis, Indians, Chinese help Dubai clock 1m hotel guests per month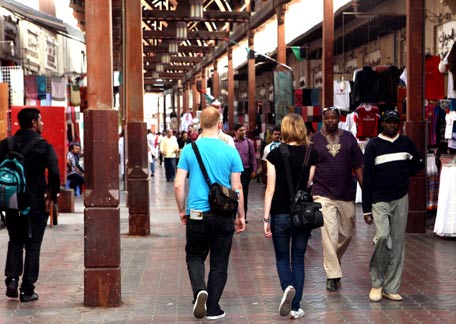 Dubai's hotel establishments welcomed 11.63 million guests in 2014, registering a 5.6 per cent increase over guest arrivals in 2013, according to figures published today by Dubai's Department of Tourism and Commerce Marketing (DTCM).

The emirate continues to maintain growth at a sustainable level while also growing its portfolio of hotels and hotel apartment establishments, thus taking another step closer to achieving its Tourism Vision for 2020, which aims to welcome 20 million visitors a year by 2020.

The data shows steady year-on-year growth and significant increases across key indicators including hotel establishment revenues and guest nights.


Top source markets for hotel guests

Dubai's top 10 hotel guest source markets in 2014 remained almost entirely unchanged from 2013, with only slight shifts in positioning. For January to December 2014, Saudi Arabia was once again the top source market, followed by India, UK, USA, Iran, Oman, China, Kuwait, Russia and Germany.

China moved from tenth position to seventh, experiencing 24.9 per cent growth in the last 12 months with 344,329 hotel guests compared to 275,675 in 2013. This surge can be attributed to the growth in the number of Chinese travellers, who are increasingly looking to travel outside of China, and the combined efforts of DTCM and its partners within Dubai's aviation and hospitality sectors to position Dubai as a destination of choice for such travellers.

India (ranked 2nd) and the UK (ranked 3rd) also showed significant increases in the number of hotel guests, rising 12.2 and 11.3 per cent, respectively. The March 2014 UAE federal ruling that exempted citizens of 13 European member states from requiring a pre-entry visa to the UAE – joining the other 15 European member states for which the exemption already applied – contributed to increases in hotel guest numbers from European countries.

"The 2014 figures demonstrate healthy year-on-year growth for hotel establishment guest numbers with significant increases from Asia, Africa and Western Europe," said Helal Saeed Almarri, Director General of DTCM.

"The strong growth in hotel guests from China is hugely positive and reflects our targeted work in this market. For example, in April 2014, tourism industry partners from across the emirate collaborated closely to host the largest ever delegate group from China with the NuSkin conference bringing more than 14,500 Chinese visitors to Dubai over a three week period. Such events, as well as our hosting of the largest ever tourism industry Fam trip from India in December 2014 and steps taken to leverage the exemption of pre-entry visas for all European Union member states, are crucial to further strengthen ties with key markets and ensure that Dubai is positioned as a destination of choice for both new travellers and repeat visitors," he said.

"The 5.6 per cent increase in the number of hotel guests occurred despite the decrease in the number of Russian visitors – a result of the current geopolitical situation and the decrease in the value of the rouble. Due to the long-held strategy and collaborative commitment between DTCM and our partners to diversify our inbound markets, Dubai's tourism industry is insulated from any short-term fluctuations within any one market, and in 2015 we will continue to work with our partners to increase market share from newer markets," he continued.

"Driven both by China's share of global outbound travel and rising wealth and changing consumer habits in emerging markets, the global travel industry is poised for a period of sustained growth over the next decade: Dubai is well positioned to leverage these factors to drive growth of our tourism economy."


Hotel occupancy and revenues

Dubai's hotels and hotel apartment establishments recorded an increase in guest nights in 2014, increasing by 7.4 per cent from 41.58m in 2013 to 44.66 million in 2014. The average length of stay increased from 3.78 days to 3.84 days.

Revenues for hoteliers and hotel apartment operators saw significant growth, with total revenues reaching Dh23.9 billion for 2014, up 9.8 per cent from Dh21.8 billion in 2013. Room revenues increased by 12 per cent year-on-year and F&B and other revenues increased by 6.1 per cent year-on-year.

Almarri commented: "Growth in revenue is notable, considering the 9.2 per cent increase in available rooms in Dubai during this period. At the start of 2014, the emirate's portfolio consisted of 84,534 rooms across 611 properties; by the end of the year this had increased to 92,333 rooms across 657 properties. The figures indicate that our hospitality industry is in a healthy state and, most importantly, that the growth is sustainable, which is crucial when it comes to meeting our Vision for 2020 targets."

In addition to the increase in rooms demanded by the forecasted rise in visitor numbers, the Vision for 2020 targets also underlined the need to broaden and further diversify Dubai's range of accommodation offering.

In the last year, new additions include a number of properties across all star ratings including Sofitel Dubai Sheikh Zayed Road, Four Seasons Resort Dubai at Jumeirah Beach, DoubleTree by Hilton Hotel and Residences Dubai, Hyatt Place Dubai Al Rigga, Pullman Jumeirah Lakes Towers and the Sheraton Grand Dubai.
Follow Emirates 24|7 on Google News.