UAE terminal receives world's largest containership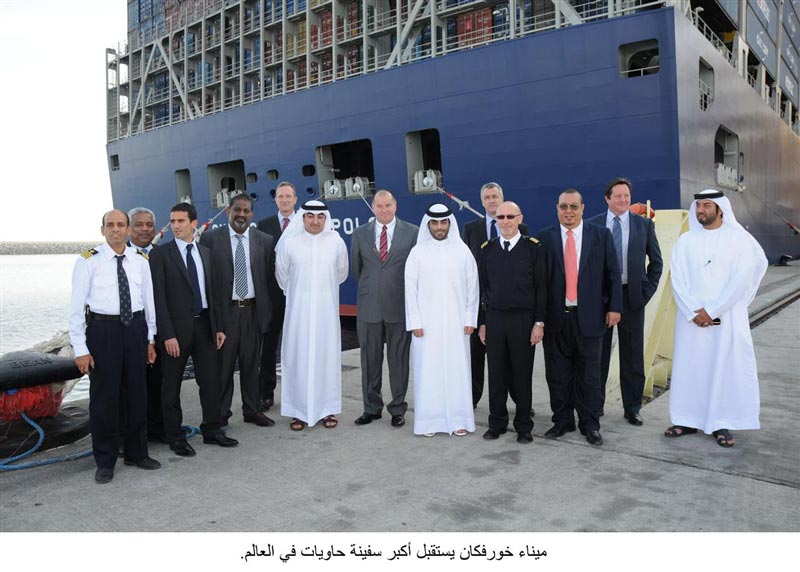 Khorfakkan Container Terminal (KCT) on Sunday became the first terminal operator in the Middle East to handle the world's largest containership, 'CMA CGM Marco Polo', owned by the CMA CGM Group.

With a length of four standard football pitches (396 metres), 54 metres beam and requiring a draft of 16 metres, Khorfakkan is one of the few ports in the world able to accommodate Marco Polo's massive 16,020 TEU capacity.

Having seen volumes increase by 26 per cent at Khorfakkan in 2012, Gulftainer, the port's operator, has ensured it stays ahead of the trend and the terminal is well prepared to handle mega-containerships beyond the 16,000 TEU handling capacity.

"The size of containership vessels is only expected to increase," says Group Managing Director of Gulftainer, Peter Richards, "as clients demand more cost effective movement of cargo, and operators demand greater fuel efficiency. Marco Polo is the first of a new breed of containership vessels, something that Gulftainer has pre-empted for many years, ensuring that its facilities are more than ready to accommodate these types of vessels."

Its arrival at KCT was marked with a presentation from Gulftainer to Captain Igor Sikic of the Marco Polo and CMA CGM representatives; Dubai Agency Deputy General Manager, Prinson George and Arnaud Coudray, Commercial Regional Director for the Middle East Gulf, Yakoub Abdullah, Head of Administration at the Department Of Seaports & Customs, Seaports Authority and Tareq Al Hammadi, Administration Officer at Khorfakkan Port.

The Marco Polo will proceed to its final port at Ningbo, China on 23 January 2013, having covered a total distance of approximately 20,000 nautical miles since the commencement of its voyage on 7 November 2012. It is the first of a series of three 16,000 TEU vessels from CMA CGM, that will all be named after great explorers.

"Having grown up with the industry here in the region, Gulftainer has evolved significantly during the past four decades and the arrival of this vessel is indicative of our forward-thinking approach and understanding of what we can expect in the years to come," Richards added.



Follow Emirates 24|7 on Google News.