CTBUH award winner The Cube to participate in Dream 2016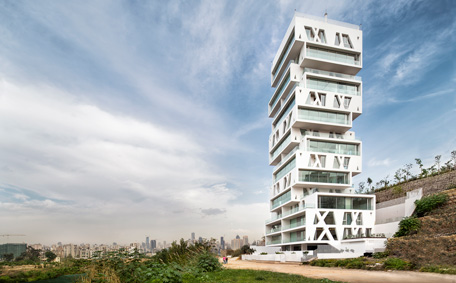 The Cube, a new iconic skyscraper in Horch Tabet, an eastern district of Beirut, Lebanon, has won the regional 'Best Tall Building Middle East & Africa 2016' Award from the Council on Tall Buildings and Urban Habitat (CTBUH).
The 50-metre high residential tower is a promise of further projects to come by its developers.
The project, designed by Orange Architects and developed by Masharii, features 14 rotated floor plans divided into 21 luxury apartments, ranging in size from 117m² to 234m², with the exclusive 10th floor apartment being its jewel. This apartment is designed by Architect Designer Dori Hitti, winner of the prestigious London Luxury Lifestyle Award 2016, and reflects his special flair for individualism, minimalism and innovation.
The Cube raises the bar for architecture of towers through its 90-degree rotation of each level from the level above and below. This creates a stepping effect for a very unique outer façade and sculpts iconic individual villas all enjoying fluid spaces, windows up to 12 metres wide offering spectacular panoramic views of the vibrant city and the Mediterranean, and spacious outdoor terraces for each apartment atop the roof of the unit below. The parking garage is located underground in 3 layers, each apartment having 2 spots.
The Cube will participate in Dream 2016, the annual real estate exhibition in Beirut. It will take place in Biel from July 11 to 14, and will feature major projects on the Lebanese and regional scene.
The Cube will also compete for Arabia Property Awards 2016, which is part of the International Property Awards that celebrate the highest levels of achievement by companies operating in the real estate industry.
Furthermore, Masharii will soon launch its unique residential beach front project in Cyprus in Limassol, which will be developed on a 2,500sqm plot close to the Four Seasons hotel.
Follow Emirates 24|7 on Google News.