DEWA develops world's 1st automated renewable energy digital utility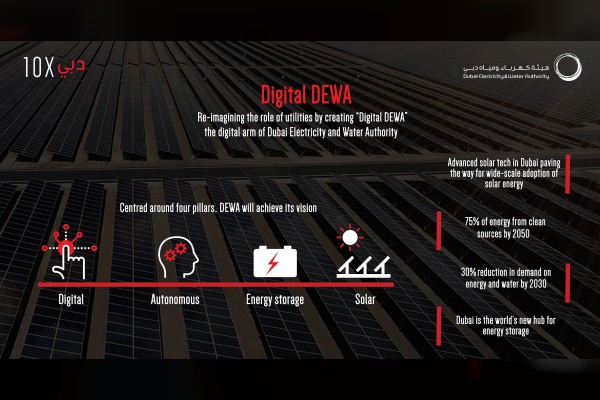 The world's first automated, artificial-intelligence-powered renewable energy digital utility is set to be established in Dubai.
The utility is proposed by the Dubai Electricity and Water Authority, DEWA, for the Dubai 10X Initiative, an ambitious venture overseen by the Dubai Future Foundation, DFF.
The "Digital DEWA" project – the Authority's digital arm – re-imagines operational procedures for service providers, as well as disrupts the entire business model of a public utility by becoming the world's first autonomous, renewable-energy utility offering AI-powered digital services. DEWA is pioneering a new model of utility services leveraging innovation in renewable energy, energy storage, artificial intelligence, and digital services.
H.H. Sheikh Hamdan bin Mohammed bin Rashid Al Maktoum, Crown Prince of Dubai, Chairman of Dubai Executive Council and Chairman of DFF's Board of Trustees, launched the bold plan, among a bundle of avant-garde proposals for Dubai 10X at the 6th World Government Summit, held in Dubai in February 2018. The Dubai 10X initiative seeks to place Dubai Government entities 10 years ahead of the rest of the world in all sectors, propelling the emirate into the future by implementing today what other cities around the world will be implementing 10 years from now.
Saeed Mohammed Al Tayer, DEWA's Managing Director and CEO, said, "Our vision is guided by the directives of His Highness Sheikh Mohammed bin Rashid Al Maktoum, Vice President, Prime Minister and Ruler of Dubai. We continuously seek to implement ambitious strategies, programs and plans in an effort to achieve the objectives of the UAE Centennial 2071, which outlined a long-term strategy to build a bright future for the Emirates."
"We embrace innovation as a cornerstone for continuous improvement to enhance DEWA's competitiveness in all areas," he added. "Furthermore, we always keep pace with the development of Fourth-Industrial-Revolution technologies, and take advantage of disruptive innovations in various fields, including AI, robotics, the internet of things (IoT), and 3D printing, to support the Dubai 10X Initiative and propel the emirate towards the future, placing it 10 years ahead of other global cities."
"Continuing on our innovation-focused approach, DEWA is looking to build the world's first autonomous renewable-energy digital utility, establishing it as a groundbreaking world-class project from Dubai," Al Tayer explained. "Our 10X response will focus on four pillars to deliver a new utility experience for Dubai and the world: solar, energy storage, autonomous services , and digital, all in an effort to make Dubai a global model for clean energy and green economy and to leverage disruptive 4IR technologies, such as AI, unmanned aerial vehicles, energy storage, blockchain, and IoT, among others."
DFF's CEO Khalfan Belhoul said, "The Dubai Future Foundation is implementing the Dubai 10X Initiative alongside various government entities, in an effort to achieve the objectives of the UAE Centennial 2071 Plan, and carry out the vision of His Highness Sheikh Mohammed bin Rashid Al Maktoum, to improve quality of life in the UAE and embrace modern technologies to provide smarter services to all UAE residents and export them to the rest of the world."
"Guided by the forward-thinking vision of its wise leadership, the UAE has become an influential player in the international energy sector, and a major contributor to the development of sustainable practices and renewable energy," Belhoul continued, adding that DEWA's initiative echoes these principles and establishes the first global institution to advance these objectives through information technology and artificial intelligence tools.
Follow Emirates 24|7 on Google News.