DEWA invites organisations to participate in third Dubai Solar Show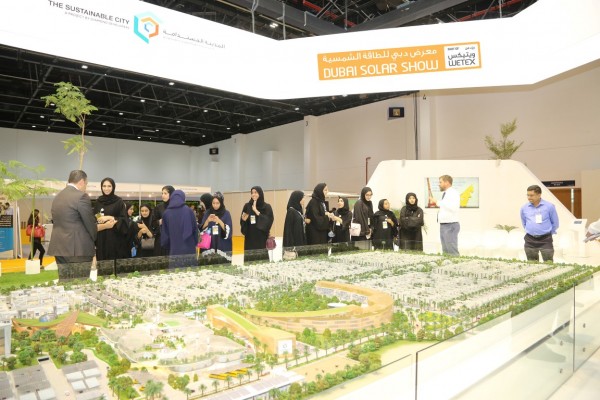 Saeed Mohammed Al Tayer, MD and CEO of the Dubai Electricity and Water Authority, DEWA, has invited companies involved in solar photovoltaic, PV, technology to participate in the third Dubai Solar Show.
The region's largest solar energy exhibition is organised by DEWA in conjunction with the 20th Water, Energy, Technology, and Environment Exhibition, WETEX 2018.
Both events are held under the directives of His Highness Sheikh Mohammed bin Rashid Al Maktoum, Vice President, Prime Minister and Ruler of Dubai, and under the patronage of H.H. Sheikh Hamdan bin Rashid Al Maktoum, Deputy Ruler of Dubai and UAE Minister of Finance and President of DEWA.
The Dubai Solar Show will be held from 23rd to 25th October, 2018, at the Dubai International Convention and Exhibition Centre. It will cover approximately 14,000 square metres, attracting 125 exhibitors and over 10 sponsors from around the world.
"Organising the third Dubai Solar Show highlights the UAE's leadership in this field, as well as its leading position in increasing reliance on solar energy, and the transformation to a green economy, to embrace the concept of sustainability in all aspects: environmental, social and economic. At DEWA, we are keen on achieving the vision of our wise leadership to ensure a sustainable future for future generations.
"This supports the UAE Centennial 2071, which paves the way for the future UAE, the UAE Vision 2021, to create a sustainable environment in terms of air quality, conserving water resources, more reliance on clean energy, and implementing green development in Dubai, as well as the Dubai Plan 2021 to establish Dubai as a smart and sustainable city, whose environmental elements are clean, healthy and sustainable.
"Consequently, the initiatives launched by our wise leadership aim to achieve global leadership in these fields, notably the Green Economy for Sustainable Development initiative, launched by His Highness Sheikh Mohammed bin Rashid, to enhance green economy in the UAE, under the slogan 'Green Economy for Sustainable Development' and the Dubai Clean Energy Strategy 2050, to transform Dubai into an international hub for clean energy and green economy, by providing 7 percent of Dubai's total power output from clean resources by 2020, 25 percent by 2030, and 75 percent by 2050," Al Tayer said.
"Through its stand at the exhibition, DEWA will review its efforts in research, development and innovation in the field of solar energy, in addition to its major solar projects, notably the Mohammed bin Rashid Al Maktoum Solar Park, which is the largest single-site solar park in the world that uses the IPP model. It will produce 1,000 MW by 2020 and 5,000 MW by 2030, with a total investment of AED50 billion. When completed, the project will achieve a reduction of approximately 6.5 million tonnes of carbon emissions annually.
"We will also highlight our efforts on engaging the community in our efforts to increase our reliance on solar energy, through the Shams Dubai initiative, to encourage building owners to install PV panels on their rooftops to generate electricity from solar power. A total of 1,132 buildings with a total capacity of 49.1MW have already been installed. The number of panels is expected to double in the future to eventually cover all buildings in the emirate by 2030," Al Tayer added.
He further called on all parties responsible for solar energy projects to participate in the Dubai Solar Show due to the benefits offered to exhibitors and participants.
"Dubai Solar Show offers exclusive benefits to participants, such as free registration for companies and products at DEWA, letters of recommendation for products participating in the show, and exclusive field visits to the Mohammed bin Rashid Al Maktoum Solar Park. The benefits include speaking to the public and reviewing products at conferences and seminars accompanying the show.
"Organising the show in conjunction with WETEX 2018 and the fifth World Green Economy Summit, WGES 2018, is a unique opportunity for those interested, to extend their scope of work to include other renewable forms of energy and many related sectors such as water, environment and energy production, in general, as well as green economy projects. In addition, participants and visitors can avail of the busy agendas of the two events, which feature conferences, workshops, and specialised activities. They can also meet experts and specialists from around the world," said Dr. Yousef Al Akraf, Executive Vice President of Business Support and Human Resources and Chairperson of the Sales, Logistics and Sponsorship Committees at WETEX.
Follow Emirates 24|7 on Google News.