DEWA's Energy Meter Testing Laboratory accredited by Emirates International Accreditation Centre as per ISO/IEC 17025:2005 requirements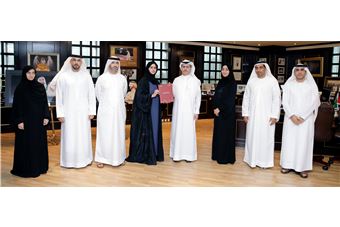 The Energy Meter Testing Laboratory of Dubai Electricity and Water Authority (DEWA) has been accredited by the Emirates International Accreditation Centre (EIAC) as per the requirements of ISO/IEC 17025:2005, which specifies the requirements for the competence of testing and calibration laboratories. It is adopted by the International Organisation for Standardization (ISO) and the International Electrotechnical Commission (IEC). DEWA's lab is the first of its kind in the Middle East and North Africa to receive this international accreditation. This underlines DEWA's leadership and excellence in providing world-class services according to the highest levels of quality.
HE Saeed Mohammed Al Tayer, MD & CEO of DEWA received the accreditation certificate from Amina Ahmed, CEO of EIAC. Rashid Bin Humaidan, Executive Vice President of Distribution Power, and Marwan Al Sabbagh, Vice President of Projects & Connection Services at DEWA were also present.
Al Tayer was pleased with the accreditation of DEWA's Energy Meter Testing Laboratory as per ISO/IEC 17025:2005 requirements. This is another accomplishment to DEWA's long list of achievements in excellence and its efforts to improve standards and procedures. This important accreditation has a technical dimension as it covers the technical requirements to prove the efficiency of testing and calibration laboratories.
"Receiving this important certificate adds to our excellence and continuous development. This supports our efforts to achieve the vision of His Highness Sheikh Mohammed bin Rashid Al Maktoum, Vice President and Prime Minister of the UAE and Ruler of Dubai, to improve government work according to the highest quality standards and excel in providing world-class government services. This also supports our efforts to contribute to achieving the UAE Vision 2021 to make the UAE one of the best countries in the world, and the Dubai Plan 2021 to enhance Dubai's global position in all areas," said Al Tayer.
Al Tayer commended EIAC's efforts and the team from the Energy Meter Testing Laboratory and other concerned departments at DEWA. Their efforts contributed to the accreditation of the laboratory according to the highest international testing and calibration standards. He underlined DEWA's continuous support to the work teams, and emphasised that DEWA provides all the necessary requirements to continue the excellence and success in all DEWA's divisions.
"DEWA has established its leading position amongst the world's leading utilities by continuously providing world-class services. DEWA launched its Smart Applications through Smart Meters and Grids initiative, to speed up service delivery and response. This ensures a quick reconnection in case of unplanned service interruption, while rationalising smart energy consumption by accurately monitoring consumption details in the real time using smart meters. This enhances the prosperity and happiness of all citizens and residents, and supports the sustainability of resources. DEWA aims to build a comprehensive smart grid covering generation, transmission and distribution systems. Smart grid includes demand sidemanagement, assets management, power stations and networks automation, systems integration and smart metering," added Al Tayer.
Follow Emirates 24|7 on Google News.