Dollar rises, underpinned by higher Treasury yields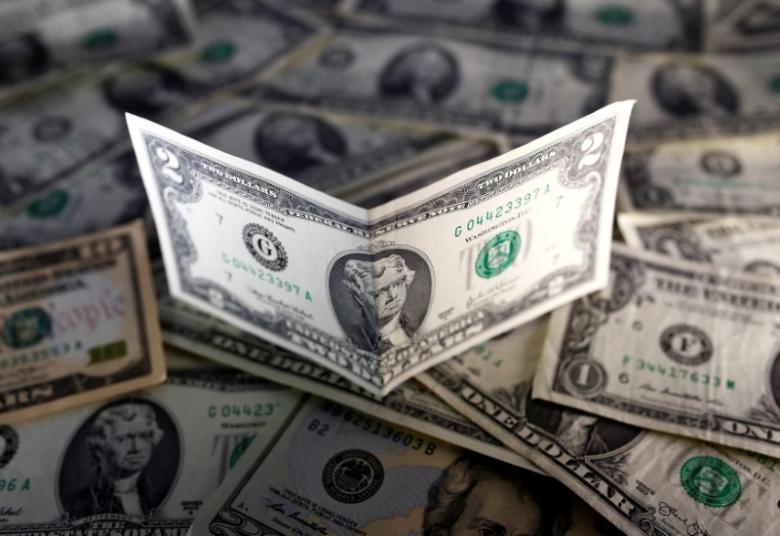 The dollar gained on Tuesday, taking its cue from higher U.S. Treasury yields as investors awaited minutes from the Federal Reserve's latest meeting for signals to the pace of interest rate hikes.
The dollar rose 0.5 percent to 113.64 yen JPY=, moving back toward its two-week peak of 114.955 yen touched last Wednesday.
Higher U.S. yields bolstered the greenback, after U.S. markets were closed for the Presidents Holiday on Monday. The yield on benchmark 10-year notes US10YT=RR stood at 2.443 percent in Asian trading, compared with its U.S. close on Friday at 2.425 percent.
"Technically, it's important for the dollar to get back to 115, which is a nice figure to target, but I think a lot of investors are probably playing from the long position and it's difficult to get a new wave of buyers to give it that extra kick," said Bart Wakabayashi, head of Hong Kong FX sales at State Street Global Markets.
"Once the dollar starts to waver, people are quick to take profits," he said.
The dollar index, which tracks the U.S. unit against a basket of six major rival currencies, rose 0.3 percent to 101.210 .DXY.
The minutes from the Federal Reserve's last policy meeting due to be released on Wednesday are a key focus for investors.
"The minutes could change the market's trend. They may have talked about reducing the Fed's balance sheet. Or the minutes may show some members are quite positive about rate hikes," said Yukio Ishizuki, senior strategist at Daiwa Securities.
"That sort of signal could fan speculation of a rate hike in March. If you look only at the firmness in recent U.S. economic data, there's no reason not to raise rates in March," he said.
Money market futures FFJ7 are currently pricing in about a one in five chance of a rate hike next month.
The euro was on the defensive, under pressure from fears that the French Presidential election could upset the status quo, as rising anti-establishment sentiment surfaced after last year's Brexit and the U.S. election.
The premium that investors demand to hold French bonds instead of German debt rose to its highest since late 2012 after a poll showed right-wing candidate Marine Le Pen narrowing the gap with more centrist opponents.
The euro was down 0.3 percent at $1.0580 EUR=, after moving little on Monday. It has fallen more than 2 percent so far this month.
"Everybody has learned lessons from last year's big surprises. People probably don't want to take big risks. The euro could face further pressure given there's still time before the election," said Ayako Sera, market strategist at Sumitomo Mitsui Trust Bank.
The first round of the French Presidential election is scheduled on April 23, with the run-off between the top two contenders on May 7.
The euro has been helped by the lack of progress between Socialist candidate Benoit Hamon and hard-left candidate Jean-Luc Melenchon in talks on cooperation.
Fears that cooperation on the left could lead to a run-off between either Hamon or Melenchon and Le Pen, eliminating three main moderate candidates, have dogged the euro since Friday when the two leftists said they were discussing such cooperation.
Another comfort for the euro came from Brussels, where Greece and its international lenders agreed to let experts work out new reforms to Greek pensions, income tax and the labor market that would allow Athens to eventually qualify for more cheap loans.
Greece needs a new tranche of financial aid under its 86 billion euro bailout by the third quarter of the year to meet debt repayments, but agreeing on a fresh aid could prove difficult as not only France but also Germany and possibly Italy face elections later this year.
Against the yen, the euro traded at 120.26 EURJPY=R, up 0.2 percent as it got a crosstrading lift from the yen's descent against the dollar. The euro slumped to 119.65 yen on Monday, its lowest since Feb. 9.
The Australian dollar slipped 0.3 percent to $0.7666 AUD=D4, moving away from last week's three-month high of $0.7732 but underpinned by firm commodity prices.
Follow Emirates 24|7 on Google News.