DP World showcases services at Breakbulk Middle East 2018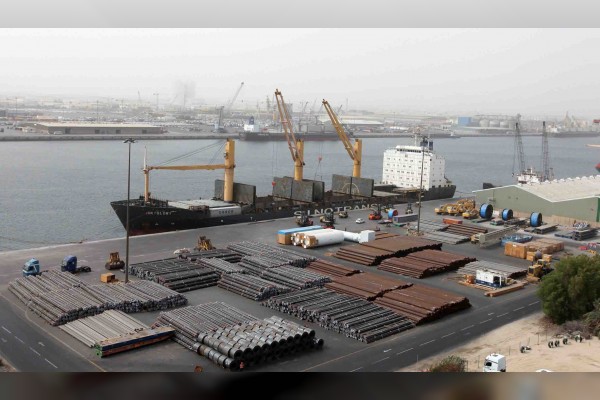 DP World is showcasing its breakbulk (general cargo) and project cargo handling capabilities at the Breakbulk Middle East 2018 conference and exhibition in Abu Dhabi, which begins tomorrow.
A senior delegation is representing the company at the event held under the patronage of Dr. Abdullah bin Mohammed Belhaif Al Nuaimi, Minister of Infrastructure Development and Chairman of the Federal Transport Authority.
Jebel Ali Port, operated by DP World, UAE Region, has rolled out a major plan to meet the projected increase in demand for breakbulk and project cargo, including heavy lift, services in the run up to Expo 2020 Dubai. Since opening in the 1970's, the port has handled nearly 550 million metric tonnes of non-container cargo, including breakbulk, RoRo, dry bulk and liquid bulk.
Mohammed Al Muallem CEO and MD, DP World UAE Region, said, "Breakbulk Middle East is a platform for generating and sharing innovative ideas about the movement of cargo. As Expo 2020 draws closer, the demand for breakbulk and special project cargo will rise sharply and as a Premier Global Partner of the event we are ensuring that Jebel Ali Port fully fulfills its role as the premier gateway for Expo-bound cargo".
"Handling breakbulk cargo is in our DNA and our experience of non-containerised cargo stems from our beginnings. At Jebel Ali, we offer an integrated port and logistics environment that includes purpose-built facilities to handle the increasing demand for breakbulk, project cargo, Ro-Ro and other general cargo. This includes a massive new multi-level vehicle storage facility to meet the needs of our customers".
The breakbulk sector remains a source of opportunities for the region with Jebel Ali acting as the Ro-Ro hub close to some of the world's largest emerging markets. Almost 1.1 million vehicles moved through the port in RoRo carriers and containers in 2016. It also handles growing demand for heavy lift and project cargo offering tailor-made solutions including space for storage and assembly for any shipment, regardless of size or weight. The port's 27 General Cargo berths can accommodate 13 vessels with storage capacity covering over 1.4 million sqm including a covered area of 70,000 sqm.
The recent opening of a bridge connecting North and South Jebel Ali Free Zone, Jafza, has recently developed the Dubai Logistics Corridor, connecting Jebel Ali Port and Jafza to Al Maktoum International Airport.

Follow Emirates 24|7 on Google News.