DP World wins "Innovator of The Year" award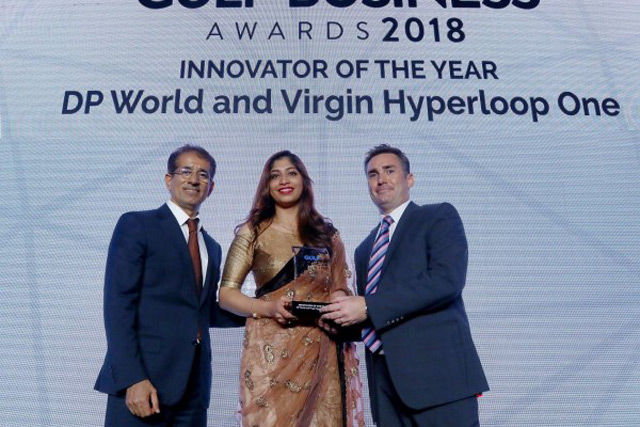 Global trade enabler DP World has been awarded the Gulf Business Innovator of the Year Award for its collaboration with Virgin Hyperloop One to develop the DP World Cargospeed system that will deliver on-demand freight at the speed of flight and closer to the cost of trucking.
The award was received on behalf of the two technology partners by Adnan Al Abbar, Senior Vice President - Planning and Project Management of DP World, at gala ceremony hosted by Gulf Business magazine, in the presence of industry leaders, government dignitaries and the media.
The award, which is adjudged by an experts panel and a public vote, cites the spirit of collaboration that motivates two global companies that believe in the power of innovation and technology.
Commenting on the achievement, Sultan Ahmed bin Sulayem, Group Chairman and CEO of DP World, said, "DP World Cargospeed is the first initiative of its kind in the world and our partnership with Virgin Hyperloop One is aimed at pushing the boundaries of innovation. A shared long term vision and the spirit of collaboration have brought us together to shape the future of global logistics. DP World's significant investment in Virgin Hyperloop One is a reflection of our commitment to reinforce the position of trade and logistics as the frontline growth engine. We thank Gulf Business magazine for recognising our partnership as the Innovator of the Year. We feel encouraged to continue believing in ourselves."
DP World Cargospeed systems, enabled by Virgin Hyperloop One technology, will transport high-priority, time-sensitive goods including fresh food, medical supplies, electronics, and more. It could expand freight transportation capacity by connecting with existing modes of road, rail and air transport.
Hyperloop can achieve top speeds of up to 300 metres/second, making it two to three times faster than high-speed rail. The technology facilitates autonomous operations designed to reduce human errors, run with minimal delays and delivers zero emissions, making it a highly environmentally friendly technology.
The Gulf Business Awards is one of the most prestigious ceremonies celebrating the GCC business community. The winners are selected by an expert panel of judges and incorporate a public vote.
Follow Emirates 24|7 on Google News.