Dubai Health Authority inaugurates smart pharmacy at Latifa Hospital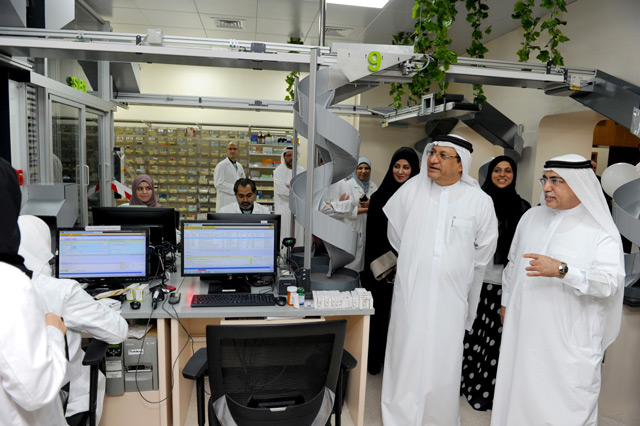 The Dubai Health Authority, DHA, inaugurated a smart pharmacy with a robot for dispensing and prescribing medication in Latifa Hospital, on Monday.
This is the first-of-its-kind smart pharmacy in the Middle East and a fourth of its kind in the DHA, as the authority launched two smart pharmacies at Rashid Hospital and one in Dubai Hospital earlier this year.
The robot in Latifa Hospital can store up to 35,000 medicines and dispenses around nine prescriptions in less than one minute. The robot dispenses the prescribed medication with a click of a bottom based on a barcode, minimising any human error.
Humaid Al Qatami, Director General of the DHA, while inaugurating the smart pharmacy, said that adopting a fully integrated smart system for its pharmaceutical transactions in DHA hospitals and health centres reduces the chances of mistakes when dispensing medication and reduces waiting time hence achieving customer satisfaction Dr. Ali Al Sayed, Director of the Pharmaceutical Services Department of DHA, said the robot dispensing process will be paper free as the robot will store the prescription as soon as the doctor documents it electronically.
He added that depending on the robot to dispense the medication, would allow the pharmacist to focus on giving the customers the correct instruction on how to take the medication.
Follow Emirates 24|7 on Google News.