Dubai Holding records 25% rise in net profit to Dh5.83 billion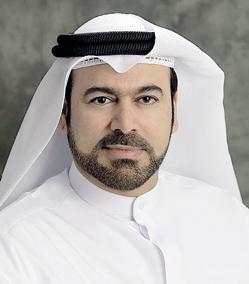 Mohammed Abdullah Al Gergawi, Chairman of Dubai Holding, on Saturday announced the preliminary unaudited financial results of its business group, Dubai Holding Commercial Operations Group (DHCOG), for the year ended December 31, 2015.
DHCOG continued to see good operational progress with all businesses performing well and contributing to Group profitability.
Net profit increased to Dh5.83bn, up 25 per cent from Dh4.68bn, while total revenues increased by 15 per cent to Dh14.53bn compared to Dh12.63bn last year, as the group targets annual profit of Dh10bn in four years. This growth was supported by the strong performance of its business units: Tecom Group, Jumeirah Group and Dubai Properties Group,
Al Gergawi explained that the Group's solid performance supported the development of Dubai's diversified economy. Dubai Holding continued to champion a range of non-oil sectors including; hospitality, leisure, property, innovation, knowledge and technology. These sectors helped underpin the development of small and medium enterprises, a sector vital to sustainable economic development.
Commenting on DHCOG's progress in 2015, he said, "Dubai Holding continues to make big strides in its successful strategy aimed at creating an innovation driven knowledge-based economy. This is in line with Dubai's long-term ambition to transform into the smartest and most productive city in the world."
Tecom, which manages business communities in multiple sectors, continues to play an important role in developing Dubai's non-oil sector and is central to the Emirate's strategy of becoming the smartest city in the world. It also supports the delivery of the 'National Innovation Strategy', which aims to develop the UAE into one of the most innovative countries in the world. At the end of 2015, Tecom launched 'In5 Media', a new incubator building for media start-ups, and Dubai Science Park, a newly formed life science, new energy and environment business community.
The number of registered companies at Tecom Group's business parks has increased by 11 per cent crossing 5,100 companies with more than 76,000 creative workers by end-2015.
Dubai Holding operates in 24 countries through three leading business units. Other than Tecom, it also owns Jumeirah Group - a global luxury hotel company; and Dubai Properties Group - one of the largest fully integrated real estate and community development businesses.
Jumeirah Group performed well during 2015 with robust occupancy levels across its 23 hotels in Europe, the Middle East and Asia that the company operated during that year. Jumeirah continues to be recognised as one of the world's leading hotel chains, receiving 75 international awards in 2015.
Jumeirah is committed to continuing its global expansion with the opening of the 'Jumeirah Bodrum Palace' in Turkey. It has also signed four management agreements for hotels in Dubai, Abu Dhabi and Malaysia, and is progressing well with the 'Madinat Jumeirah' expansion project. Other milestones achieved by Jumeirah last year include a partnership with technology giant Google to launch 'Jumeirah Inside', an industry-first digital platform that offers guests a virtual reality tour of some of its hotels.
In 2015, 'Oasis Village', 'Wild Wadi' Water Park and Emirates Academy of Hospitality Management were accredited with the internationally renowned Green Globe Certification (GGC). With these certifications, all Jumeirah hotels and facilities are now accredited.
During the year, Dubai Properties Group signed an agreement with the RTA, in which the latter would develop roads to the Arjan, Majan and Liwan developments. DPG also signed an agreement in 2015 in which Dubai Electricity and Water Authority would build six substations worth Dh700 million to generate power for DPG developments.
During 2015, DPG launched three new real estate projects and successfully handed over more than 800 residential units and the Company's residential leasing portfolio of over 15,000 units continued to perform extremely well with occupancy at 98 per cent, and staff accommodation units occupied at full capacity of 100 per cent. Average occupancy for retail units is at 83 per cent, and is at a 100 per cent for commercial units.
Follow Emirates 24|7 on Google News.