Dubai's The Tower to have swinging deck, open elevators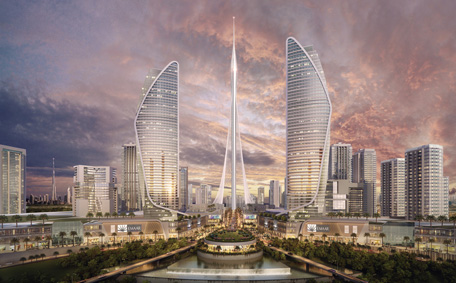 Not just that Dubai's biggest developer, Emaar Properties, will build a tower that would surpass 828-metres Burj Khalifa, Dh3.67 billion ($1 billion) The Tower in Dubai Creek Habour master development will have 'swinging platforms' and 'open elevators', Santiago Calatrava Valls, the architect of the tower, told Emirates 24|7.


"There will be swinging platforms so people will be able to go into the platform and then the platform will turn and you will in the viewing deck," the Spanish-Swiss neo-futuristic architect said.


Ruling out plans for double-decker elevators, Valls said: "We will have regular elevators. However, we want to do elevators that are rather high… so a part of the elevator is open so people can enjoy the view outside and can even watch the side and top views of the project on screens in the elevator."

Talking to this website, Micael Valls of Santiago Calatrava Architects and Engineers said the tower will have two "swinging" platforms. The height of the platforms was not disclosed.

"There will be floating platforms that rotate out so that one can be in a glass floor environment without having to step outside, as the whole floor rotates out."

When asked as how much inspiration has been drawn from 828-metre Burj Khalifa, Santiago Calatrava Valls said: "The Burj Khalifa is an enormous achievement… I think it is not only a very beautiful building, but also makes fantastic addition to the skyline of Dubai. We are not only inspired, but we are also challenged."


The tower, with 18 usable floors, draws design inspiration from the lily and evokes the image of a minaret, which is a common feature and distinctive aspect of Islamic culture.

The elongated oval-shaped bud and geometric texture set the template for the observation decks, while the slender stem serves as the analogy for the structure, which is engineered to its most efficient diameter.


The tower will be linked to the ground with sturdy cables which have been inspired by the delicate ribbing of the lily leaves. The cable array gives the structure its strength, anchoring the 'bud' securely to the ground with technical precision using modern engineering materials.

"There are bridges which use cables, but they are not as long as those we are using. We are probably using the longest cables never fabricated," Santiago Calatrava Valls revealed.
Follow Emirates 24|7 on Google News.