Dubai to get 27,000 more hotel rooms during 2015-18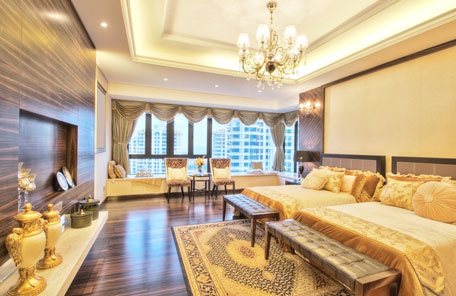 Dubai's hospitality sector is poised for steady growth during 2015-18 with 27,000 additional rooms entering the market.

According to the latest figures on the emirate's hospitality sector released by real estate investment and advisory firm JLL, the emirate will see addition of 4,700 rooms to its 64,200 keys in 2015.

But this growth will witness substantial jump during 2016 and 2017, adding 8,400 and 8,000 keys – respectively. However, another 5,900 rooms supply will come into stream in 2019 – taking the number of keys to 91,200 by 2019-end from 64,200 in 2014.

Data research firm STR Global has reported that 10,969 rooms are under construction in Dubai – the largest in the region – and 3,065 rooms in Abu Dhabi. Among other regional cities, 6,576 rooms are in the construction phase in Doha, 5,936 in Makkah, 5,491 in Riyadh and 2,728 in Jeddah.

According to industry figures, more than 30 properties – including extension of some of the existing hotel – are forecast to open their doors in 2015-16.

Dubai-based Hospitality Management Holdings (MHM) CEO Laurent A. Voivenel believes that the emirate needs more budget than the high-end rooms in order to attract and diversify the options for budget-conscious tourists.

"Budget hotels are the most profitable long-term investment. And now is the time to build these in Dubai. The market is ripe and is in urgent need of more budget rooms if it is to diversify its segments, attract the growing middle class travellers from emerging economies of Asia and Africa as well as cater to Dubai Expo 2020 visitors," Voivenel said in a statement to Emirates 24l7.

HMH CEO said there is a near saturation in the market when it comes to luxury hotels and the market does not need any more luxury hotels at this point.

Oversupply of rooms in this segment is putting a tremendous pressure on rates that in turn is affecting return on investment (RoI). However, the same is not the case with mid-market hotels. Given the demand, investors can expect double digit RoI (10 to 12 per cent every year) with the right product and the right location, Voivenel added.

Chiheb Ben-Mahmoud, Head of Hotels and Hospitality for Middle East and Africa at JLL, said with consistent supply of rooms in the market, the Dubai hotel operators would fee increased competition which could lower their margins.

He said with an additional 4,700 keys due for completion in 2015, the sector is expected to witness subdued growth rates as operators face strong competition.

"The decline in oil prices, lower liquidity levels and the appreciation of the US dollar may weigh on the number of tourist arrivals in 2015. This is particularly the case with tourist levels from Russia and neighbouring countries, which registered an 18 per cent drop year-on-year to November. We expect occupancy rates and average daily rates to remain under downward pressure as tourists choose to travel to more affordable destinations in 2015," JLL analyst said.

Data research firm STR Global has also lowered outlook of occupancy rate and average daily rate for emirate's hospitality sector for 2015-16.

Follow Emirates 24|7 on Google News.