Dubai tops luxury travel survey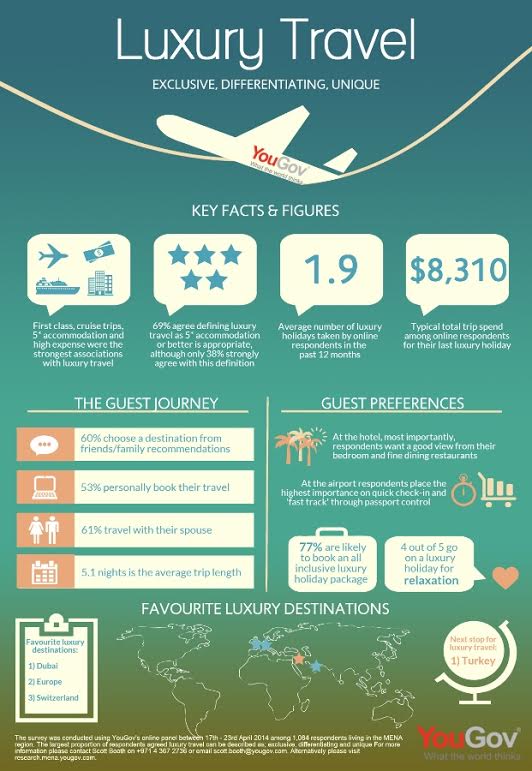 Since the holiday season sets in, Dubai has again emerged as the favourite destination for high-end travelers as the emirate topped luxury travel survey.

"A 2014 YouGov Luxury Travel report for the Mena region showed that out of the 1,000-plus regionally based survey respondents, luxury clearly has a home in the Middle East with Dubai ranked in top spot as the preferred upscale destination," said Nadege Noblet, Exhibition Manager of Arabian Travel Market, WTM Portfolio, Reed Travel Exhibitions.

A total of 69 per cent of respondents in the YouGov report agreed that luxury travel is defined by the availability of five-star accommodation as a minimum standard.

Also those surveyed admitted they had taken an average of 1.9 luxury holidays over the last 12 months, meaning that the region's preponderance of upscale hotel properties is perfectly positioned to capitalise on growing demand from high net-worth travellers eager to discover new destinations or enjoy an exclusive experience in their favourite resort.

"Today the definition of luxury is strongly dependent on the perspective of the traveller. With no universally accepted definition of what luxury travel is, brands need to truly understand what luxury means to their customers in order to be successful," said YouGov's Travel & Leisure Research Director, Scott Booth.

The YouGov report also highlighted the fact that 61 per cent of luxury tourists from the Mena region choose to travel with their spouse, staying for an average of 5.1 nights, with four out of five people choosing to go on a luxury holiday for pure relaxation.

"Of the respondents surveyed, on average they reported typically spending around $8,310 (Dh30,500) per trip, with 60 per cent choosing a destination based on recommendations from family and friends, and 53 per cent personally booking their travel. Service delivery combined with exclusivity are clear prerequisites for a desirable luxury offering," noted Noblet.

Once in the hotel, respondents ranked a good view from their room and a choice of fine dining restaurants as paramount to ensuring an enjoyable experience with consumer opinion defining luxury as 'differentiating, discovery and experiences'.

"Interestingly, 77 per cent of respondents said that they were likely to book an all-inclusive luxury holiday package, which is an area of opportunity that many Gulf destinations have yet to explore," said Mark Walsh, Portfolio Director for Luxury Events at Reed Travel Exhibitions.

Luxury travel trends will once again be a highlighted feature at Arabian Travel Market (ATM) taking place from 4-7 May 2015 at the Dubai International Convention & Exhibition Centre.
Follow Emirates 24|7 on Google News.