1m cruise passengers by 2020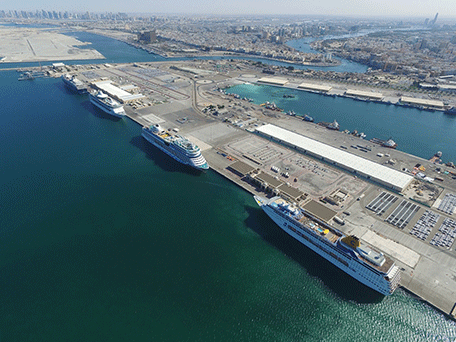 Dubai plans to build a marina for luxury yachts in response to high demand as the emirate is targeting one million cruise passengers per year by 2020, said Sultan Ahmed bin Sulayem, Chairman and CEO of DP World and Chairman of Ports, Customs and Free Zone Corporation.
"Our goal now is to make the best passenger-friendly facilities in the world. We have joined hands with all authorities present at the port, including Dubai Customs, the General Directorate of Residency and Foreigners Affairs and Dubai Police to deliver expedited, top-notch services to cruise tourists," said Bin Sulayem.
Bin Sulayem announced that expansion of Mina Rashid cruise terminal is underway.
"To ensure the facility reaches its optimal capacity and to further facilitate passengers' access to the terminals, more berths are being allocated, existing terminals are being linked via a high-tech tubes system and an additional terminal is being built," he added.
"We are committed to investing in the transformation of Mina Rashid into the cruise destination of choice for cruise liners. We aim to increase the number of cruise ships calling Dubai Cruise Terminals in order to meet our target of one million cruise passengers a year by 2020. In addition, there is a plan to build a marina for luxury yachts at Mina Rashid, in response to the high demand worldwide for luxury yachts berths," said Bin Sulayem.
Dubai has experienced 22 per cent growth in the number of cruise ships and a 33 per cent increase in cruise passengers traffic between the 2015-2016 and 2014-2015 cruise seasons, from 109 ships and 373,000 passengers to 134 ships and more than 500,000 passengers.
The growth trend is set to continue in the 2016-2017 season, with 155 cruise vessel calls (16 per cent growth) and 650,000 passengers (30 per cent growth), according to pre-bookings.
The Chairman and CEO of DP World and Chairman of Ports, Customs and Free Zone Corporation pointed out that the busy cruise season for Mina Rashid runs from November to April.
"However, we do have few ships calling the cruise and leisure terminal during October, May and June. The majority of the ships are home porting, which supports our vision in attracting more cruise liners to do home porting from Dubai. Home porting ships add value to overall tourism in Dubai and supports airlines, hotels and other tourist facilities in Dubai," Bin Sulayem said.
Follow Emirates 24|7 on Google News.