27.7% Increase in Net Profit of Dubai Silicon Oasis Authority in 2016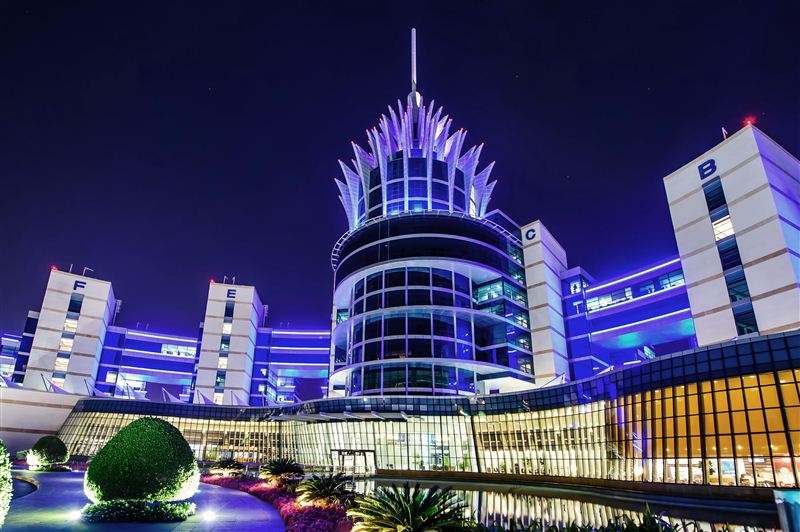 His Highness Sheikh Ahmed bin Saeed Al Maktoum, Chairman of Dubai Silicon Oasis Authority (DSOA), today announced that Dubai Silicon Oasis (DSO) has successfully transformed into a preferred integrated destination for IT companies and entrepreneurs, and an exemplary pioneer of the smart city model. The announcement followed the release of DSOA's yearly results that showed positive performance across all areas of operations in 2016.
The organization registered AED518 million in recurring revenue by end-2016, representing a 9.4 percent increase compared to 2015. DSOA also earned AED234.7 million in net profit, in 2016, achieving a 27.7 percent growth over the previous year.
His Highness Sheikh Ahmed bin Saeed Al Maktoum stated that the hi-tech free zone is a key contributor to the development of Dubai's economy, based on knowledge, innovation and technologies of the future. He added that DSO has succeeded in reinforcing its position as an early adopter of smart city development through proactively implementing and integrating technology into the daily lives of its residents and employees.
Summarizing DSO's achievements, His Highness Sheikh Ahmed said: "The number of companies operating out of the technology park grew from 1,920 in 2015 to 2,120 in 2016, marking an increase of 10 percent. DSO's outstanding record in drawing interest from hi-tech companies, investors and entrepreneurs is a testament to the exceptional services and state-of-the-art facilities it offers. The free zone plays a significant role in attracting direct investment into Dubai and the UAE as a whole."
His Highness Sheikh Ahmed added: "These results reflect a robust growth in the technology sector, which is one of the most important sectors for the future and plays a pivotal role in shaping the post-oil economy and ensuring sustainable development. Going forward, in addition to providing a base for entrepreneurs and companies, DSOA seeks to contribute to the development of the technology sector and encourage open exchange of knowledge and expertise, engagement with the leaders in the sector, and training of national talent."
For his part, Dr Mohammed Alzarooni, Vice Chairman and CEO of DSOA, said: "Our vision and mission are based on developing an advanced and fully integrated free zone technology park that supports international companies in establishing advanced R&D facilities in the Middle East."
He noted that nearly 78 percent of the companies based at DSO specialize in IT, while the remaining 22 percent operate across a range of sectors including commerce and services. According to the latest breakdown, 72 percent of the companies at the hi-tech park are from the Middle East and Africa region, 12 percent are European, 12 percent are Asian, 3 percent originate from the Americas, and 1 percent from Australia & New Zealand.
Sustainable Growth
As part of its continued efforts to position DSO as a preferred integrated destination for employees and residents, DSOA, in conjunction with external investors, is currently developing a series of residential, office, and light industrial units. In 2016, ground works were completed for 28 projects across a total area of 431,000 square meters. Furthermore, work was initiated on 50 other projects spanning a total area of 1.52 million square meters, at a total cost of approximately AED7.5 billion.
Silicon Park
With the aim of realizing the vision of transforming Dubai into the smartest city in the world, His Highness Sheikh Ahmed recently unveiled the commemorative plaque and laid the foundation stone of Silicon Park, the first integrated smart city to be built in DSO. The project will cost AED1.3 billion and spread over an area of 150,000 square meters.
The smart city, scheduled for completion by Q4 2018, will include 71,000 square meters of office space, 25,000 square meters of retail space, 46,000 square meters of residential space, a business hotel, a community center, public gardens, and a selection of restaurants and cafés. In addition, the development will comprise modern business facilities including meeting halls and a multi-purpose conference center.
Two New Power Substations
In order to keep pace with the growth of DSO-based companies, residences and future projects such as Silicon Park, DSOA has allocated AED192 million to build two new power substations with a capacity of 400 megawatts. The construction will take place in two phases during 2017 and 2018.
Fakeeh Academic Medical Centre
In line with Dubai's plan to become a global destination for medical tourism, construction works have commenced on the Fakeeh Academic Medical Centre (FAMC) – a state-of-the-art smart hospital and medical university project developed by Saudi Arabia's premier healthcare provider, Dr Soliman Fakeeh Hospital (DSFH).
Estimated to cost AED1 billion and set to span across 150,000 square meters of the free zone, the Fakeeh Academic Medical Centre will launch in two phases. Phase 1 of the project, a 150-bed smart hospital, is earmarked for completion in H1 2017. Phase 2, to be completed in 2019, will increase the capacity of the medical center by an additional 150 beds and incorporate an academic component in the form of a research-focused medical university. The hospital will also include five centers of excellence specializing in diabetes and endocrinology, muscles, bones and joints, emergency medicine, pulmonary medicine, and cardiology.
Axiom Telecom
Currently under construction, Axiom Telecom's new AED200 million hi-tech headquarters will spread across 420,000 square meters. Equipped with the latest technology, the building will serve as a base for all major company operations.
AED500 Million Avenues Mall
An agreement with one of the largest retail groups in the UAE demonstrates DSO's sustained efforts to consolidate its position as a fully integrated technology park providing an optimum environment to live and work. The agreement stipulates the building of Avenues Mall, a one million square feet shopping center scheduled for delivery in 2018 at the cost of AED500 million.
Smart Cities
In line with the vision of His Highness Sheikh Mohammed bin Rashid Al Maktoum, Vice President and Prime Minister of the UAE and Ruler of Dubai, to transform Dubai into the smartest and happiest city in the world, DSOA is implementing a range of smart city solutions. As a strategic partner of Smart Dubai, DSO has successfully positioned itself as a pioneering proof of concept for full implementation of the smart city initiative, and a center of excellence for research and assessment of smart city technologies for a number of public and private entities.
5G Technology
In 2016, DSOA announced its collaboration with Emirates Integrated Telecommunications Company PJSC (du) for the development of fifth generation mobile technology (5G) and Internet of Things (IoT) solutions.
The two parties will collaborate on the establishment of a program titled UAE 5G Innovation Gate (U5GIG). It will enable universities and technical organizations across the country to cooperate in the development of the 5G ecosystem, and allow academia and industry to test applications and technologies in a real-world setting.
As part of the agreement, a UAE 5G Innovation Lab will be established at Dubai Silicon Oasis to test the compliance and feasibility of 5G equipment and services to global standards. Following its establishment at DSO's TechnoHub building, DSOA and du will further join hands in the research and development of integrated environmental systems at the innovation lab. The UAE 5G Innovation Lab will serve as a platform to prototype, test and validate early 5G and Internet of Things (IoT) equipment and services.
Master of Smart City Science
In line with its commitment to contributing to the Smart Dubai initiative, DSOA launched a first-of-its-kind Master of Smart City Science program in the MENA region at the DSO based Rochester Institute of Technology (RIT-Dubai), a leading American University in Dubai. Totalling 33 credit hours, the program and coursework for the master's degree was developed by RIT New York and will be implemented at both the Dubai and New York campuses.
DSOA will continue working with the Smart Dubai Office to extend its support to the UAE's young decision makers of the future. As part of this priority, DSOA has fully sponsored 13 employees from different entities within the Government of Dubai, who are expected to graduate in May 2017.
Designed to help planners build and develop smart, efficient, sustainable and community-based cities, the curriculum effectively integrates awareness of the interdisciplinary history of modern cities with concepts of urban economics, city development and planning theory, urban ecology and demography, as well as applied problem-solving and research methods related to the city.
Providing a holistic view of the development of smart cities, the program addresses systems by function including - water, food, waste, transport, education, and energy. It will also cover topics on the urban need for dynamic, networked, and self-regulating systems. The program follows an executive learning model that enables students to continue working, and integrate their learning into their daily work, while completing the 12-month program.
Smart Street Solution
In collaboration with Huawei, a leading global ICT solutions provider, DSOA recently installed the first Smart Street Solution in the Middle East region at the hi-tech park in order to assess the feasibility of larger-scale implementation across the emirate of Dubai.
The integrated nature of the concept means it is 'future-ready' - or fully prepared for the inclusion of further services and capabilities in a cost-effective and timely manner. In addition, the centrally-controlled Smart Street Solution allows greater energy efficiency and management.
Integrated Smart Building Technologies
An IoT-based central administration system grants full control of all devices and equipment across all buildings within DSO. This technology requires the installation of hi-tech sensors within the buildings to enable energy and cost savings through managing electricity consumption. Apart from sending real-time data to the central system to ensure comfort and safety at all times, the sensors can also analyze usage tendencies to adapt performance and reduce operational costs.
Energy Efficiency and Environmental Friendliness
In line with its tri-pillar CSR strategy, DSOA achieved outstanding results in promoting energy efficiency and environment conservation through several initiatives. As the first free zone in the UAE, it surpassed the goals stipulated in the Dubai Integrated Energy Strategy 2030, reducing cumulative energy consumption by 33 percent – three percent above target.
In addition, the technology park is currently implementing several key initiatives in accordance with the Dubai Clean Energy Strategy 2050 that aims to promote energy efficiency while cutting down operational costs - thereby helping to fulfil the UAE's ambition to reduce its carbon footprint.
Charging Stations for Electric Vehicles
In 2015, DSOA installed its first charging station for electric vehicles at its headquarters in collaboration with Dubai Electricity and Water Authority (DEWA). Since then, it has added two others – at one of DSO's residential buildings and at the Cedre Villas Community Centre. A fourth station is currently under installation at the DSO Service Centre.
By the end of 2016, DSOA succeeded in decreasing its carbon emissions by 67,000 tons due to streamlining trips by security patrol, facility management and waste collection units. Through the use of electric vehicles, it aims for a further 20 percent reduction, reaching a total of 72,000 tons by end-2020.
Online Client Service Portal for DSO Business Partners and Residents
In line with its commitment to providing best-in-class services and facilitate the operations of its business partners, DSOA has increased the number of e-services to more than 406, a 77 percent rise compared with the previous year. These services are accessible through an online portal built exclusively for the free zone's business partners – 2,120 companies to date – as well as the residential community, comprising more than 57,000 people.
During 2016, DSOA received around 147,000 applications submitted through the portal, representing an increase of more than 89 percent over 2015, which saw approximately 78,000 online applications registered. These results reflect the success of the portal and the customers' satisfaction with its implementation.
Dubai Technology Entrepreneur Centre (DTEC)
Since its launch in 2015, DTEC has supported entrepreneurs in the technology sector. Through this venture, DSO gives entrepreneurs an opportunity to establish their companies, while providing office space, advisory support and networking opportunities.
Responding to the growing demand for office space, DSOA expanded available facilities by adding new 1,400 square-meter Techno Hub complex next to DTEC taking the center to a total space of 5,000 square meters; thus reconfirming its position as the largest of its kind in the Middle East, and nurtures entrepreneurial talent in the technology, digital Islamic economy and Arabic content sectors.
To date, DTEC has attracted the interest of more than 650 startups from 64 countries, marking an increase of 51 percent compared to 430 companies at the end of 2015. Nearly 35 percent of the startups are Middle East and Africa-based, while Asian startups make up 8 percent, European startups 42 percent, American and Canadian startups 6 percent, GCC-based startups 6 percent, and Australian startups 3 percent.
The center has created more than 3,000 job opportunities, and provided funding amounting to AED18 million to select startup projects. Furthermore, its stimulating and interactive work environment is a vital element in appealing to young, innovative entrepreneurs.
DSOA is fully committed to supporting young local startup founders and encouraging creativity among talented UAE business people in order to help them achieve their goals and turn their ambitions into reality.
Follow Emirates 24|7 on Google News.