28 new hybrid taxis on the road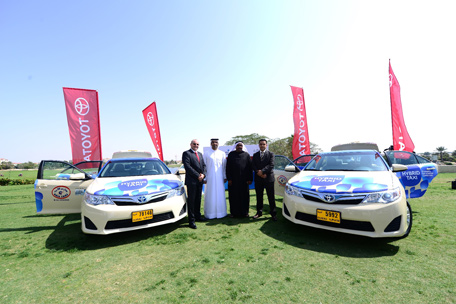 Under the theme Pioneers for a Better Tomorrow, Al Futtaim Motors, exclusive distributor of Toyota in the UAE, partnered with Cars Taxi, in a new environmental venture that will further improve the nation's sustainable transportation credentials in line with Expo 2020's vision.
Under the deal, Al-Futtaim Motors has supplied a total of 28 Toyota Hybrid Camry vehicles, making Cars Taxi the first private company in the UAE to own a hybrid fleet.
The announcement was made at a handover ceremony attended by Jon Williams, Managing Director Al Futtaim Motors, Abdullah Sultan, Executive Director Cars Taxi and a number of senior officials from both organisations.
Jon Williams praised the efforts of Cars Taxi and sees this new deal as a serious step towards a more ecological future in the UAE.
He said: "We are delighted to see that Hybrid Camry vehicles are a genuine option for companies aiming to own environmentally-friendly and fuel-efficient fleets.
"Toyota Hybrid Camry vehicles not only deliver excellent fuel economy and low CO2 emissions but also reduce maintenance and repair costs resulting in the lowest total cost of ownership in class, for companies operating them."
Upon receiving the vehicles, Abdullah Sultan, Executive Director, Cars Taxi said: "As an operator of over 4,000 taxis, we feel privileged to be the UAE's first private company to own Hybrid cars.
"We are working hard to ensure that our efforts help support the vision of the UAE government who are looking to create a more sustainable mobility network and help reduce our society's carbon footprint.
"The excellent reputation, durability, low cost of ownership and superior green credentials of the Toyota Hybrid Camry, were certainly big selling points for us."
Corporate, government and taxi operators around the world are increasingly relying on Toyota hybrid mobility to help reduce the impact of their fleets on the environment.
Al Futtaim Motors had previously supplied Dubai Taxi Corporation with a fleet of 20 Toyota Hybrid Camry, following a three year trial run on 10 vehicles, which resulted in a 33% improvement in fuel efficiency and a 33% reduction of CO2 emissions.
Toyota marks 17 years of hybrid technology leadership in 2014 and has sold around 6 million hybrid vehicles with a portfolio that currently offers 23 models worldwide.
Follow Emirates 24|7 on Google News.