Abu Dhabi hikes guests target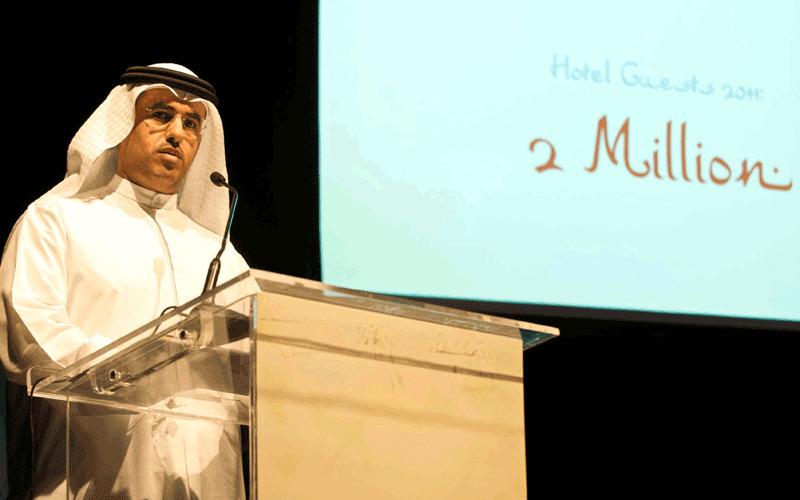 Abu Dhabi Tourism Authority (ADTA) has hiked target for 2011 hotel guests of two million, up from the current 1.9 million, following a stellar performance by the emirate's 116 hotels and hotel apartments last year. The stretch target will require a 10.5 per cent rise in hotel guest numbers on 2010, with the authority urging its industry stakeholders to focus on creative destination packaging and strengthening distribution to achieve the ambitious goal.

"We now have a much enhanced product in place, in terms of infrastructure, attractions and world-class events and the need going forward is to leverage them all in compelling packages which can be distributed internationally to resonate with discerning consumers," said Mubarak Al Muhairi, Director General, ADTA.
Last year, Abu Dhabi hotels hosted some 1.81 million guests - 18 per cent more than the previous year and 8 per cent above target. Now ADTA, in raising the benchmark once again, says it will focus on five specific tourism segments to deliver on its aspirations. Addressing ADTA's Annual Industry Forum, attended by government officials, destination stakeholders and media, Al Muhairi said ADTA will concentrate its 2011 efforts on the cruise, golf, educational, events and culture & heritage segments.
"We will invest in these sectors and address all components of the value chain, extending a range of incentives to our partners and tour operators worldwide," he said. "These are all segments where we now have significant resources, the product to satisfy demand and to differentiate ourselves."
"Our destination rose superbly to the challenge in 2010 and we believe we can do it again. We have our work cut out for us with another 4,000 plus rooms, in both business and leisure hotels and resorts, due on line this year adding to our existing room stock of 18,844."
Al Muhairi said the authority will pursue a major international consumer activation programme to spur bookings to the destination allied with a significantly bolstered global brand campaign.
"We will announce the mechanics within a few months," said Al Muhairi.
The ADTA Director General said the authority is well advanced with an attraction audit to identify, and tackle, gaps in mid-level attractions and in its plans for dedicated offices or full time representation in Russia, Saudi Arabia and America.
"We have representation on the ground in Moscow and are finalising a dedicated office there, while offices will open in Manhattan, New York and Jeddah, Saudi Arabia by the end of the first quarter," the Director General explained.
ADTA is also readying to roll out the second phase of its global advertising campaign while supporting industry initiatives, such as the Etihad Airways' Essential Abu Dhabi destination marketing programme with tactical advertising in key markets.
Al Muhairi also urged stakeholders to pro-actively leverage trade and consumer engagement opportunities offered at trade fairs and consumer shows the authority participates in.
"We will invest in a refreshed structure which pushes out the product and event message. We will though increasingly rely on industry players to proactively engage with their overseas counterparts to produce the packaged products consumers buy and ultimately deliver the sustainable return-on-investment we all require. Brand awareness is increasing, and moves to support this with tactical initiatives to promote conversion to travel will increasingly become the order of the day," said Al Muhairi.
Increasing air access to the destination would also expand Abu Dhabi's geographic outreach.
"We welcome Etihad's increased services from Jeddah, which have just risen from a daily to 12 flights a week, and its plans to increase frequencies on five key European routes this year. We are also readying to welcome, later this month, V Australia's thrice-weekly flights from Sydney when it becomes the first Australian carrier to operate to the Middle East since 1991, as well as Cathay Pacific, which plans to fly to Abu Dhabi four times a week from June," said Al Muhairi.
The Director General said two key 2011 milestones represent substantial opportunities for a proactive local industry – the 2011/2012 home porting in the UAE capital of the MSC Cruises luxury MSC Lirica liner and the arrival of the Volvo Ocean Race fleet when, for two weeks, Abu Dhabi becomes the host port for the third leg of the 'Everest of Sailing.'
"MSC Lirica's 19, eight-day cruises around the Arabian Gulf will begin and end in the UAE capital bringing a potential 41,000 overnight passengers to our doorstep – 30 per cent of which, industry research shows, have potential to return," said Al Muhairi. "Our partnership with MSC Cruises will deliver tactical and strategic benefits to the emirate including incremental gains in hotel guests, longer length of stay and great visitor spend."
Meanwhile Al Muhairi said an announcement is imminent on the location and design of the planned Race Village which will be a focal point for upwards of 200,000 spectators, including 4,000 school children and 250 media, expected to welcome the Volvo Ocean Race teams to Abu Dhabi on New Year's Eve 2011/New Year's Day 2012.
"We are looking to all our stakeholders to join us in delivering a welcome that will stand out above all others as this fearless yachting flotilla arrives at our shores," added Al Muhairi.
ADTA is targeting 35,000 international visitors during the host port fortnight delivering 45,000 visitor nights. The host port experience is also expected to deliver huge destination exposure through international media with a print cumulative readership in excess of 234 million, newsfeeds with downloads in more than 24 countries, online coverage in over 46 countries and radio coverage from 31 stations in over 17 countries.
Follow Emirates 24|7 on Google News.