Abu Dhabi starts business index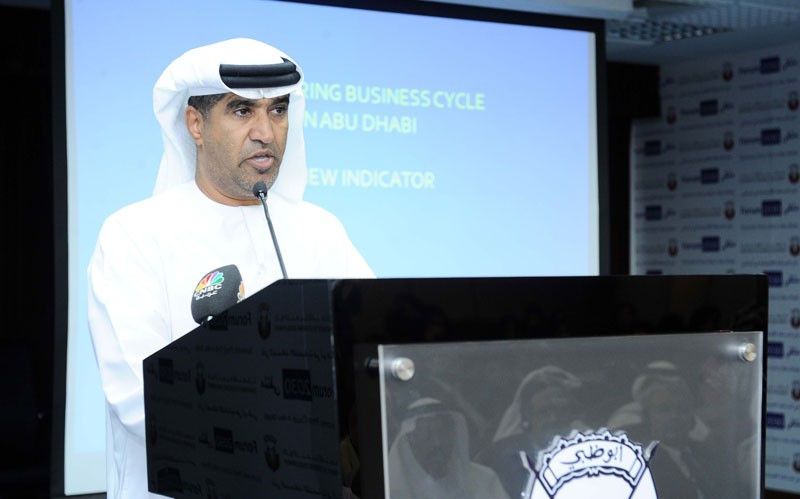 Abu Dhabi on Monday launched the Arab world's first business index as part of its ambitious long-term development strategy intended to attract capital, ensure viable growth and ease reliance on unpredictable oil sales.
The Abu Dhabi Department of Economic Development (DED) invited scores of officials, bankers and businessmen to announce the launching of the index, which it said would provide more accurate economic data and help planners and businessmen take better economic and business decisions.
The complex index, introduced with the help of the German business analysis company GIZ, will cover all types of economic and business data as well as outlooks for growth and investment in the emirate, which controls nearly eight per cent of the world's extractable crude oil resources.
The index is the latest in a series of projects announced by Abu Dhabi as part of its long-term development strategy stretching known as Vision 30.
"This index will contribute to expanding the flow of data and provide accurate figures on the economic and business situation as well as forecasts for the future," said Rashid Al Zaabi, director of planning and statistics at DED.
"This will no doubt serve all parties in the market, including businessmen, investors, consumers, and policy makers…it will enable them to take better decisions about their business in an environment that is not suffering from much uncertainty…this will in turn lead to more interaction and activity in the market."
He said the index would also lead to stronger cooperation and coordination between the government and the private sector.
"This index is just a part of a strong of projects and achievements in Abu Dhabi…we hope it will contribute to attaining the emirate's objectives set in its development strategy aimed at ensuring prosperity for all citizens."
DED said the index is still in its infant stages given the lack of sufficient data but added that it would be expanded and developed at a later stage.
"The index will focus on development and monitor its various stages in an accurate manner because risks are still there," it said.
"The prices of oil and other commodities, mainly food, are still very high and this could hamper global growth particularly in Asia…some countries could be compelled to tighten their monetary policy and this could obstruct the flow of capital worldwide…this means that policy makers should monitor all these developments, mainly in capital markets."
DED said the new index showed that recovery in Abu Dhabi remains partial and that development is still below expectations.
"This should prompt the emirate to support domestic demand through further increases in public spending on infrastructure…it should also follow policies that will avoid further curbs on consumption at least for now."
Abu Dhabi has the largest economy in the UAE as it pumps over 90 per cent of its oil production and most of its gas output.
The emirate's economy expanded by around 7.6 per cent in 2010 and is expected to grow by nearly seven per cent this year in line with its 2008-2012 development plan, according to official estimates.
From Dh517.8 billion in 2010, the emirate's real GDP is projected to rise to Dh554bn in 2011, DED undersecretary Mohammed Omar Abdullah said.
Real GDP had swelled by 7.6 per cent from about Dh481bn in 2009 following an improvement in oil prices last year, he told a recent seminar.
"These rates are in line with the targeted growth of 6-7 per cent in the emirate's current five-year plan for 2008-2012," he said.
In a recent study, DED projected investment of nearly $130bn which it said would allow Abu Dhabi to attain its economic targets set for its 2008-2012 development plan. It said this would boost the non-oil economy by 10 per cent.
By the end of the plan, the non-oil sector could become the dominant component of the emirate's gross domestic product as it is projected to rise to nearly 53 per cent from around 40 per cent at the start of the blueprint.
The report said high growth in the non-oil economy would allow the government to realize the targeted average growth of seven per cent in its overall GDP.
"The non-oil economy will be an important contributor to the overall growth of the economy of Abu Dhabi….similarly, it is expected to match the rates of contribution and achieve growth of 8-10 per cent over the set period of time. It would be supported also by an expected growth of 14-15 per cent by the 10 focus sectors of the Five-year Plan," the study said.
"While overall growth may be affected significantly by oil revenue, the non-oil sector is expected to continue to contribute to the overall economic growth by an estimated rate of 4-5 per cent, if the oil sector revenues get stable….this will be reflected in that the ratio of non-oil sector to oil sector would be 53:47, compared to 40:60 in 2006; which is consistent with the objectives of the Vision."
========
The 10 focus sectors of Vision 30
Tourism and events
Transport and logistics services
Civil aviation and space industries
Basic industries and manufacturing
Petrochemical and plastic products
Oil and gas Services
Renewable energy
Information technology and communications
The media
Financial services and insurance (Capital markets)
Follow Emirates 24|7 on Google News.