Another Lehman moment? 25 banks set to fail stress test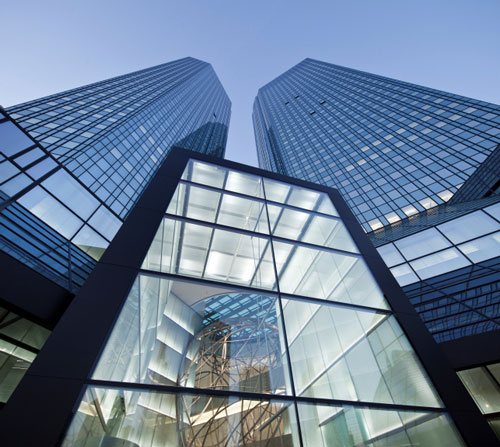 After putting the Euro zone's top 130 banks through their paces, the European Central Bank will face a test of its own on Sunday – will its landmark health check succeed in convincing investors the region's lenders are safe?
The ECB will announce the names of 25 banks that held too little capital at the end of last year, along with details of around 10 banks that have not yet made up the shortfall. The announcement is due at 1100 GMT (3pm UAE time).
As well as the number of failures, Reuters has already reported details of several banks' performance, including that Germany's Deutsche Bank and Greece's Alpha Bank passed the tests while Ireland's Permanent TSB failed.
Other media outlets have also reported how some banks and countries' banking systems have fared.
With much of the news revealed in advance, the major remaining question is whether the exercise will be judged credible enough to banish lingering fears about euro zone banks, freeing them up to lend again and tempt US investors back to European banking shares.
Analysts have already warned that the stress tests on Eurozone banks run by the European Central Bank may not be enough, and have highlighted the need for a 'bad bank' to be created to relieve the stressed-out banks of their bad assets.
"Despite the desirability of having a light shone on the balance sheets of European banks, the European Banking Authority (EBA) bank stress test is unlikely to be a constructive tool in repairing the region's banking sector unless something altogether more ambitious is also announced by the ECB," said Tom Elliott, deVere Group's International Investment Strategist, ahead of the results of the high-stakes tests being made public today.
"On Sunday, the ECB should announce the creation of a bad bank. A bad bank needs to be created to relieve euro zone banks of their bad assets, resembling a euro zone replica of NMA in Ireland. This could be funded by the ECB, which would exchange bonds under its own name for these assets," Elliott added.
"The stress test could have consequences not only for Eurozone banking systems, but also for the financial sector in Eastern Europe," says Antonio Timoner-Salva, IHS Banking Risk senior economist. "Since one of the main sources of financial trouble for Eurozone banks are their subsidiaries in Central and Eastern Europe, a sell-off of these assets to reinforce their parent units could also lead a consolidation process in the banking industry in this region around the surviving banks, the fittest that would emerge with stronger market positions," he adds.
The ECB has staked its reputation on delivering an independent assessment of the euro zone banks before it takes over as their supervisor on November 4.
The European Banking Authority (EBA), which will include the ECB results in an announcement of EU-wide stress test results at the same time on Sunday, is hoping its exercise will prove more convincing than previous rounds in 2009, 2010 and 2011.
"If the stress test is too strict, and fails too many banks, European tax payers are likely to end up footing the bill for re-capitalising their balance sheets, since private capital will have all its worst fears about weak bank balance sheets confirmed. This will put pressure on government budgets at a time of regional austerity, and make a joke of the three per cent budget deficit limit that Euro zone members are supposed to be aiming for and which France and Italy will already be breaching. German and Italian mid-tier banks look particularly vulnerable," said Elliott.
The euro dipped on Friday amid uncertainty about the results, while euro area banking stocks were volatile as rumours swirled about who had passed and who had not. Initial comments from investors on Sunday and trading in banks on Monday will be the first real indication of how the tests are judged.
"At least we will get a true picture of what the banks have genuinely in their books," said Alan Lemangnen, Europe economist at Natixis in Paris. "We see that the solvency of the European banking sector will improve and has already improved."
Asset Valuations Key
Sources familiar with the tests say the ECB's findings on whether banks have overvalued their assets, and what kind of corrective action it demands, will be at least as significant as who passes or fails.
A forensic review of how banks value their assets marks these health checks out from three previous EBA tests. While just 20 per cent of banks have failed the ECB tests, most lenders are expected to be found to have overvalued their assets.
If the ECB judges banks' assets to be worth far less than the banks do, it will not force a bank to immediately take additional loan losses.
However, banks will have to hold more capital to reflect the ECB's assessment of their likely future losses as asset values fall to what the ECB believes they are now. This will leave banks with less flexibility to expand, lend or pay dividends.
Any outcome that depresses lending would be at odds with the ECB's objective of getting banks to pump more credit into the euro zone economy to revive much-needed growth.
"Banks shied away from taking on new risks in order to look as safe as possible," Berenberg analysts said. "Their uncertainty slowed the credit cycle over the last year, and prevented job-creating business investments from going ahead. This uncertainty should fade now."
France's central bank governor, Christian Noyer, said on Friday the exercise was "more rigorous than what was done in other big countries" and would restore credibility in the sector.
The results will be closely watched for any sign of political favouritism. Sources told Reuters on Friday that the checks found that banks in Greece, Cyprus, Slovenia and Portugal had fallen short of the capital benchmarks at the end of last year, while lenders in Spain and France had fared, by and large, better than expected.
In Germany, the president of the association of German private-sector banks, Juergen Fitschen, said on Thursday the results would probably give German lenders a clean bill of health, something that may raise eyebrows given widespread concerns about some areas of German banking like shipping lending.
Fitschen is also co-chief executive of Deutsche Bank . Sources told Reuters on Friday that the lender passed the stress test by a wide margin, showing balance sheet strength well above the minimum requirements.
"But if the stress test passes too many banks, it will be regarded as a repetition of three previous EBA stress tests. These were viewed almost immediately on release as being unrealistically optimistic, a view confirmed by subsequent bank failures," said Elliott.
Next Steps
The ECB review is running in parallel with an EU-wide stress test, and the results for both will be announced simultaneously. ECB Vice President Vitor Constancio and chief supervisor Daniele Nouy will brief the media at 1130 GMT (3pm UAE time) on Sunday.
The ECB's passmark is for banks to have high-quality capital of at least 8 percent of their risk-weighted assets in the most likely economic scenario for the next three years, and capital of at least 5.5 per cent in an adverse scenario.
The assessment is based on banks' positions at the end of 2013. Since the end of last year, however, banks have already strengthened their balance sheets by issuing new shares, retaining earnings or selling assets. This may mean that even if banks fail, they may have already dealt with their problems.
Since mid-2013, efforts by banks to boost their balance sheets have amounted to €203 billion, the ECB said.
Banks with a capital shortfall will have to present the ECB within two weeks with a plan that details how they intend to close the gaps. They will then be given six to nine months to do so, depending on where in the review the shortfalls occurred.
"We expect the capital solutions to be found within the private sector and see extremely limited requests for public funds," Lemangnen of Natixis said.
Follow Emirates 24|7 on Google News.