Bahrain forwards, credit risk up on Egypt, Yemen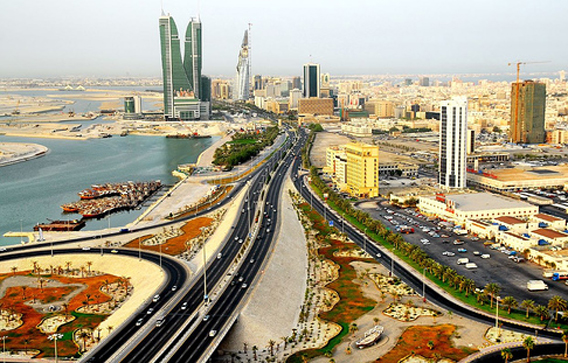 Bahrain's currency forwards touched their highest level since May 2009 on Thursday and default protection costs jumped on regional concerns about the violent unrest in Egypt and protests in Yemen.
One-year currency forwards were quoted as high as 50/100 points on Thursday, pointing to a 0.5 per cent weakening of the Bahraini dinar over the next 12 months. Dealers said there was no trade in the illiquid Bahraini market on Thursday.
"The deterioration in the situation in Egypt worries investors, with headline news in Yemen also developing that is casting clouds on the region," said Benoit Anne, head of emerging market strategy at Societe Generale in London.
"The contagion risk leads to a continued weakness in GCC forwards. It's not Bahrain-specific, but part of the overall picture."
Like most other Gulf Arab nations, Bahrain links its dinar to the US dollar with the peg set at 0.376.
In recent years Bahrain has seen an increase in political tension, such as when the government launched a broad security crackdown against some Shi'ite groups and curtailed media freedoms ahead of parliamentary elections last October.
"They are calling for some demonstrations in the middle of February in Bahrain, and that is basically hitting the CDS market as well," said Lyndon Loos, head of Mena forex trading at Standard Chartered in Dubai.
The non-Opec oil producer's five-year credit default swaps (CDS), the cost of insuring the Gulf island kingdom's debt, rose 14 bps to 238 basis points on Thursday, hitting their highest level since November 2009, according to Markit.
Bahrain plans a $1 billion bond, IFR Markets said on Wednesday, which would be the first sovereign offering from the Gulf this year.
In oil giant Saudi Arabia, currency forwards have been on a roller-coaster ride this week, trading as high as 65 points on Monday, the highest since January 2009.
They turned around and were quoted at -20/-5 points on Thursday, which implies slight currency firming, with traders linking the volatility to continued violence in Egypt.
"Saudi forwards have been all over the place, the action is completely linked to Egypt," a trader at an UAE bank said.
Egypt was caught in a bitter and, by turns, bloody confrontation on Thursday as armed government loyalists in Cairo fought pro-democracy protesters demanding the overthrow of President Hosni Mubarak.
In Yemen on Thursday, tens of thousands of Yemenis squared off in street protests for and against the government.
Follow Emirates 24|7 on Google News.