Bridgestone Park opens at Jafza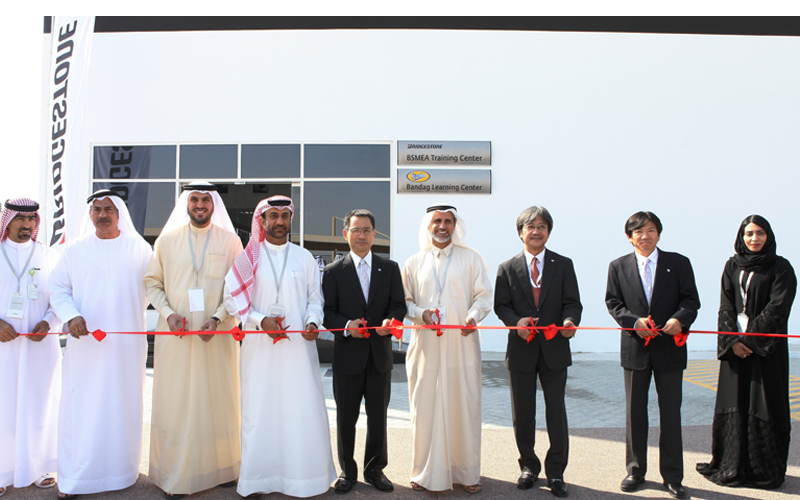 Bridgestone Middle East and Africa (BSMEA) officially opened its new 21,678 m2 facility – Bridgestone Park – in the South Zone of Jebel Ali Free Zone (Jafza) today.
Bridgestone Park was formally inaugurated by Ibrahim Mohamed Al Janahi, Deputy CEO of Jafza, and Talal Al Hashimi, Managing Director – Economic Zones World (EZW) - UAE Region; also present at the opening ceremony were Kunitoshi Takeda, Vice President Asia Pacific, China, Russia, Middle East and Africa Tyre Operations, Bridgestone Corporation; Shoichi Sakuma, President, Bridgestone Middle East and Africa; as well as senior officials from Jafza and Bridgestone's local business partners.
The new Bridgestone Park includes a training facility serving the Middle East and Africa (MEA) region. The Training Center will be used by Bridgestone employees, distributors, and business partners across MEA to develop and enhance their knowledge and skills. Through the center, Bridgestone is keen to increase professional training standards and take learning and acquiring knowledge to a higher level.
Bridgestone Park features a FirstStop retail store – Bridgestone's passenger car service center; the Truck and Bus Tyre Service Center (BTTC); and a Bandag Learning Center, which specialises in retread training. The FirstStop, BTTC, and Bandag Learning Center facilities at Bridgestone Park will be used as models to educate and train regional business partners as these new Bridgestone brands and services are introduced across the region.
Bridgestone Park is an extension of the company's long-standing business in the Middle East and Africa and is operated by BSMEA, Bridgestone's Headquarters for the MEA region, based in Dubai.
Sakuma said: "The investment in this stunning new facility gives Bridgestone the opportunity to provide our regional customers with new and enhanced services and to train our staff to deliver the highest possible standards of customer care. Bridgestone Park will become a new, strategic and state-of-the-art hub for BSMEA to enhance our employees', partners', and distributors' skills and knowledge, in order to serve our customers and communities better."
Al Janahi said: "Bridgestone's significant investment in its new sustainability focused facility in Jafza reflects the company's deep commitment to the region and their trust in the Free Zone. I am sure the "Bridgestone Park" will help Bridgestone serve the region more efficiently and in elevating the level of professionalism in the auto industry in the Middle East and African countries. I wish them great success and assure them of our full support, whenever, they need."
Follow Emirates 24|7 on Google News.