British aristocratic brand enters UAE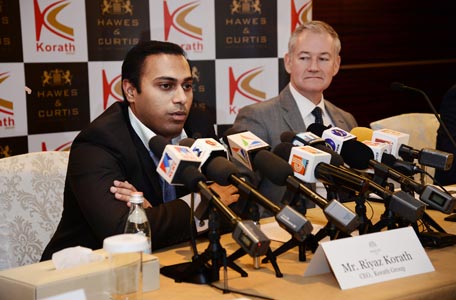 Korath Group, a retail business group in the UAE that runs the KM chain of supermarkets and hypermarkets, has announced the opening of UAE's first outlet of Hawes & Curtis, a popular British brand showroom in the Wafi Mall. It plans to open 25 to 30 new outlets of the leading British men's fashion retailer all over the UAE and GCC countries within the next three years with a planned investment of Dh100 million.
With 32 outlets in the UK and three factories in Turkey, Bulgaria and Georgia, this is the first time that 101 years old British fashion brand known for its aristocratic and royal customers legacy and heritage is entering the UAE market. Known as couturiers to British aristocracy, Hews & Curtis offers custom made men's shirts, suits and other accessories for men and woman.
The century-old British company lists among the celebrity customers Lord Mountbatten and the Prince of Edinburgh. The first outlet in the Wafi City will be followed by more outlets in Abu Dhabi, Sharjah, Al Ain, and other emirates of the UAE. Bollywood superstar, Shahid Kapoor, opened the first Hawes & Curtis outlet in the Wafi Mall on March 5, 2015.
Riyaz Korath, Chief Executive Officer of Korath Group said the group will invest Dh100 million for the planned expansion of the standalone Hawes & Courtis outlets throughout the UAE and other GCC countries. Next outlet of the brand is likely to be opened soon in the World Trade Center Mall, Abu Dhabi followed by spacious outlets in shopping malls in other Emirates.
Follow Emirates 24|7 on Google News.