Budget in surplus, says Mansoori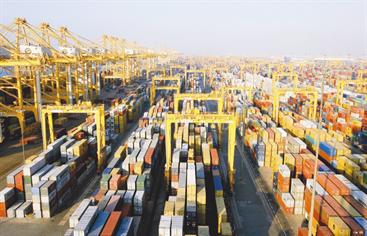 Inflation in the UAE should remain at around 2 per cent this year and its fiscal balance is in surplus despite a rise in government spending last year, Economy Minister Sultan bin Saeed Al Mansouri said on Thursday.
The UAE spent 32.8 per cent of its gross domestic product in 2010, the highest level since the global financial crisis and that helped the world's third-largest oil exporter spur economic growth and further diversify away from oil, the minister said in a prepared speech.
"In spite of increased public spending, our fiscal balance remains in the surplus zone and inflation is projected to remain at around two per cent," Mansouri said in the speech.
Asked whether food price inflation was a worry, Mansouri told reporters: "Not really. Food price inflation is a very small concern."
UAE inflation hovered close to just 1 per cent for most of 2010. Consumer prices rose 1.7 per cent on an annual basis in December.
"There was a bottoming out in inflation in 2009 and 2010. Now in 2011 there is a slight bounce back (due to food and utility prices)," said Giyas Gokkent, chief economist at National Bank of Abu Dhabi. "The reason why policymakers are not concerned at this point in time is because the expectation is that inflation will remain in low single-digits."
The Opec member does not release its consolidated fiscal balance but the minister's estimate that the UAE spent 32.8 per cent of GDP last year is in line with a 32.6 per cent of GDP forecast by the International Monetary Fund in October 2010.
Most spending occurs at the level of individual emirates such as Abu Dhabi and Dubai.
Fiscal policy is a key tool for Gulf Arab policymakers to steer their economies as most Gulf states, including the UAE, peg their currencies to the US dollar.
The government has not yet released GDP figures for 2010, but a central bank official said earlier this week that UAE's economic output now stood at more than $300 billion (Dh 1.1 trillion).
Nominal GDP was Dh914.3 billion ($248.9 billion) in 2009, according to government data.
Mansouri also said in the speech that UAE imports were expected to reach nearly $216 billion in 2011, up from $197 billion last year.
Follow Emirates 24|7 on Google News.