Central Bank reveals loan malpractices at banks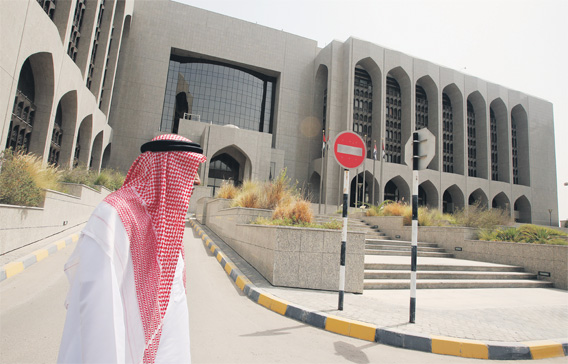 The UAE Central Bank has accused managers at some banks of using their clout to provide high-risk loans to relatives and acquaintances without sufficient guarantees and called for an end to such offences.
A Central Bank source, quoted by Emarat Alyoum Arabic language daily on Thursday, said these practices constitute a serious offence as they increase risks in the country's financial sector.
The source also said it is illegal for banks' board members and their children to act as chief executive officers at the same time, adding that any loan must not cover 100 per cent of a project value.
"Attempts by some managers of board chiefs to use their influence and powers to extend credit or other financial facilities to their relatives, friends or acquaintances without complying with legal terms constitute a serious offence and unacceptable practices," the paper quoted the unnamed source as saying.
He said the Central Bank is in the process of alerting banks about such practices before taking the necessary measures.
"There is a basis by which all banks must abide when giving loans, including the need for enough guarantees and market interest rates…funding of a project must not cover 100 per cent of its value…there is no common or defined funding ratio but there is a ceiling through which all banks can move, ranging between 70 and 80 per cent of the project value. The rest is funded by the client."
The source said the central bank wants all the country's 23 national banks and 28 foreign units to evaluate guarantees given to them in return for credit in an "objective and real" way that will reflect the actual price of those assets away from "previous exaggeration and overpricing that were the cause of default of many banks and the main factor for the heavy loan loss provisions taken by them."
"Risk management units at banks should be convinced that guarantees given in return for loans are fair and do not contradict prevailing prices….banks are reminded that they have internal auditors along with external ones and their duty is to detect any violations and report them to the competent authorities."
The paper said the source refused to disclose details of such offences of name the banks involved but financial analysts in the region have blamed malpractices and mismanagement in the Gulf financial sector for the heavy exposure of many banks to defaults, mainly those by two major Saudi business families.
Banks in the UAE and Saudi Arabia were worst hit by the default and the 2008 global fiscal crisis, which forced them to chop large funds off their resources for bad debt provisions. This has stifled their net profits but most of them have started to gradually return to profit growth following the build up of sufficient reserves.
According to a Saudi investment firm, the global crisis and default problems that have shaken the banking sector in the six Gulf Cooperation Council (GCC) countries underscored poor transparency and outdated credit practices in the region.
"Even as the regional corporate sector has generally performed well in the face of the crisis, the scandals have offered evidence of over-extension and poor risk management at some companies. The impact of the crisis has been amplified by poor transparency and the relative lack of well-defined and broadly accepted mechanisms for dealing with situations of distress," said NCB Capital, owned by Saudi Arabia's largest bank, National Commercial Bank..
"From the regulatory perspective, the crisis has highlighted the risks and limitations of many outdated credit practices, but new standards have yet to fully replace them. The poor sentiment in the corporate sector has gone hand-in-hand with highly restrictive lending practices by regional banks," it said in a study in late 2010.
Follow Emirates 24|7 on Google News.