Dangerous goods warehouse opened in Dubai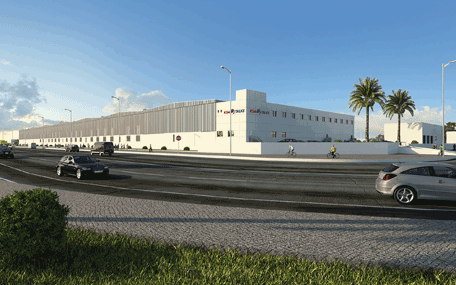 The chemical logistics joint venture, RSA-Talke has taken its new packed goods storage facility for dangerous and non-dangerous goods in Dubai into operation.
Located in the Dubai World Central (DWC), the world's first purpose-built aerotropolis, it boasts a capacity of 19,000 pallet spaces and direct access to the Jebel Ali sea port and the Al Maktoum airport. Meanwhile, RSA-Talke is already planning its next large-scale project: an integrated chemicals solution in Jebel Ali, the world's largest Free Trade Zone.
RSA-Talke is a joint venture of Dubai-based RSA Logistics and the German-based Talke Group.
The joint venture, founded in May 2013, enables the experienced chemicals logistics expert Talke to provide its services to an even larger number of customers and to strengthen the Group's presence in the Middle East. Apart from Dubai, Talke also has activities in Saudi Arabia, Qatar, Oman and Bahrain. RSA is able to offer its customers a wider range of logistics services through the joint venture and to build on the customer base that already exists.
The newly-commissioned RSA-Talke packed goods storage facility for dangerous goods & non-dangerous goods complies with the highest safety, environment protection and quality standards, such as the USA's National Fire Protection Association (NFPA) standards or the EU's ATEX guidelines on explosion prevention. Furthermore, cutting-edge storage systems enable efficient and safe operations.
Khalifa Al Zaffin, Executive Chairman, Dubai Aviation City Corporation, said: "The opening of RSA-Talke's warehouse underlines the strategic significance of DWC in unfolding new possibilities for multinational companies as they expand their boundaries to reach out to a wider customer base. It also demonstrates DWC's capability to cater to the demands of diverse industries and business needs through its state-of-the-art logistics infrastructure and multimodal transportation platform. We extend our full support to RSA-Talke as they further expand in the region."
RSA-Talke now offers its customers in the Gulf region 19,000-pallet storage places for hazardous & non-hazardous goods as well as tailor-made transport solutions by road, air or sea, if required. The storage facility is designed to store class 3, 4, 5, 6, 8 and 9 dangerous goods. It consists of seven independent chambers, four of which are temperature controlled and run at a constant 22°C.
"Dubai World Central has positioned Dubai as a leading international logistics hub due to its strategic location; seamless connectivity through land, sea and air routes and world-class amenities. Its aerotropolis concept makes it the perfect setting for global companies wanting to establish their presence in the region. We look forward to serve more key players like RSA-Talke who are looking to tap into the booming Middle Eastern economy and exciting business opportunities," said Rashed Bu Qara'a, Chief Operating Officer, Dubai Aviation City Corporation.
The pallet storage facility is located in the heart of Dubai World Central, one of the most dynamic logistics hotspots in the world. It is only minutes away from the Al Maktoum International Airport, slated to become the world's largest airport upon completion, and close to the Jebel Ali free trade zone, part of the seaport and the largest man-made harbour of the world. Connections to the highway network and access to the future rail network round off the location's profile as the ideal spot for RSA-Talke to offer multi-modal logistics solutions.
"Both the production and import and export of specialty chemicals are constantly gaining importance here in the Gulf region," says Richard Heath, Director Middle East & Asia at Talke and Director of RSA-Talke. "By investing in new locations, we support our customers' growth and diversification. This enables us to provide them with additional capacities for safe top-quality logistics solutions," Abhishek Ajay Shah, Director of Operations & Business Development at RSA and Director at RSA-Talke, adds.
Dangerous goods capable container terminal with value addition in Jebel Ali, the world's largest Free Trade Zone
The next step to support the up-and-coming chemical industry in the Gulf region is definite: RSA-Talke is planning to build a large dangerous goods capable container terminal in the Jebel Ali Free Trade Zone (JAFZA). The facility will be designed especially for handling liquid chemicals in ISO tank containers and will have a capacity of 1,800 TEU (twenty-foot equivalent units).
The range of integrated logistics solutions for liquid chemicals offered will also include maintenance, repair and cleaning services for the tank containers and various filling and re-filling facilities. The container terminal is a useful addition to the new pallet storage facility, complies with the same high safety standards, and is designed for the same dangerous goods classes 3, 4, 5, 6, 8 and 9.
Follow Emirates 24|7 on Google News.