Dubai Boat Show: Fastest, biggest luxury yachts on display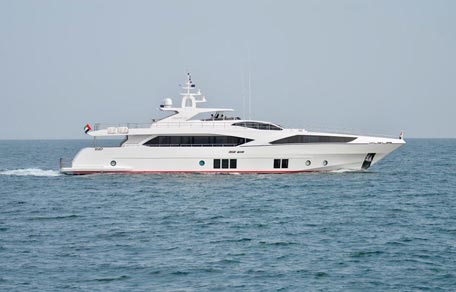 Dubai is synonymous with luxury and an opulent lifestyle. This was quite evident at the Dubai International Boat Show, where put on display was the fastest aluminium-made cruiser, one of the largest by the locally-manufactured yachts and the most expensive cruises.
Among the 430 boats worth Dh1 billion worth of luxury boats put on display are the fastest and the most luxurious vessels for the show visitors. Not just the commercial, even floating palaces owned by the royal families are also an eye catcher for the visitors.
The UAE manufacturer of luxury yachts Gulf Craft has put on display one of its largest its super yachts, Majesty 122, for partying fitted with 10 rooms and an estimated price of Dh61 million.
The 135-feet or floating palace Majesty 122 is designed in-house by Gulf Craft with 4 decks and an expanded dedicated area best for partying with friends and families. The yacht is set for the delivery to the owner.
Overall, it has put on display yachts worth Dh180 million at the show.
Erwin Bamps, CEO of Gulfcraft, said the super yacht has been designed for a perfect party yacht environment for large group of friends. He also announced the launch of its family yacht brand "Nomad".
Also put on display – and for sale – is BehneMar Middle East's Silver Fast – the most expensive yacht of the show priced at Dh329 million (80 million euros). This float palace can make travelling not just luxurious but also quicker reaching Europe from Australia in 21 days with just one fuel stop.
Built in Australia, the 77-metre super yacht has been equipped with spa, pool and beach club for diving – apart from the luxury interior set in aqua colour by Sabrina Monte-Carlo, an ultra-luxurious interior outfitter based in Monaco. An advanced ecofuel-efficient vessel, Silver Fast can achieve top speeds close to 29 knots and a range of 4,500 nautical miles.
Emiratis & expats sailing in high seas
Despite the bottleneck at marinas in the UAE due to dearth of berths for yachts, the boat industry is optimistic about the growth – thanks to the growing sentiment in the UAE economy.
Miguel Contreras, General Manager of Duboats, says sales are picking in the UAE as Emiratis are coming from powerboats to sailing. Duboats sales doubled to 12 last year as compared to the previous year, he said while announcing the launch of two new yachts at the Dubai International Boat Show. Duboats has sold its most expensive yacht for Dh12 million at the Dubai show.
Another luxury yacht builder and marina management firm Art Marine says they have a wide customer base from Emiratis, Arabs, Indian and Pakistani in their list.
Follow Emirates 24|7 on Google News.