Dubai economy bets on superjumbo air travel boom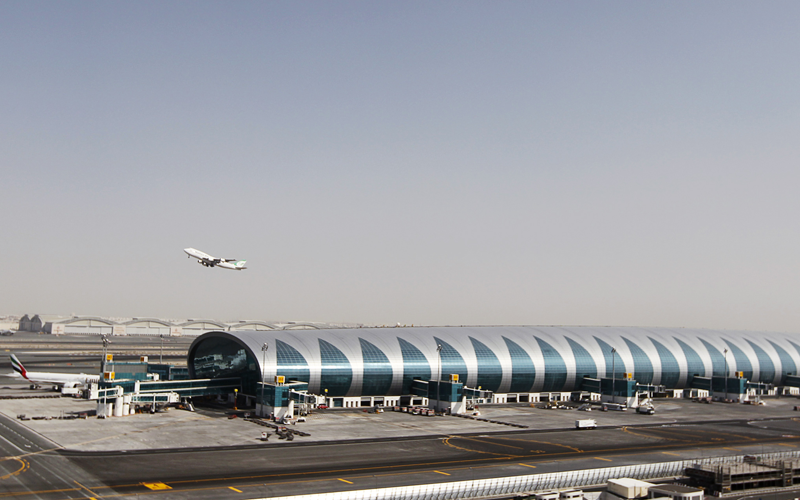 With the opening of a huge new airport terminal in Dubai this week, Dubai's economic future became more closely intertwined with the world's biggest passenger jet.
Emirates, Dubai's state-owned flagship airline, began flying from the world's first airport terminal that was purpose-built to handle Airbus A380 superjumbos.
The 528,000 square metre terminal cost over $3 billion to build and has 20 gates with double-decker bridges to move passengers on and off the twin-deck A380s.
It is a large, and some say risky, bet on the future of a single plane. But because of its size, the A380 has emerged as an important part of Dubai's plans to keep its economy growing by developing its tourism and retail businesses.
"Emirates' strategy is for Dubai to become an aviation hub between Europe and Asia-Pacific," said Zafar Khan, aerospace and defence analyst at investment bank Societe Generale in Britain.
"With planes like the Airbus A380, airlines can shift large volumes of traffic. Of course, the trick is to fill up these planes."

STRATEGY
Emirates, one of the world's largest and fastest-growing airlines, has been a key customer for the A380 since the plane began flying commercially in 2007.
It is the largest single buyer of the superjumbo and now operates 31 of the planes, with a further 59 ordered and yet to be delivered. Emirates accounted for over a third of the 257 A380s sold by European plane maker Airbus at the end of last November.
Emirates president Tim Clark said last September that the airline was willing in principle to order another 40 A380s, but Dubai's airport currently lacked room for them.
While Airbus needs Dubai, however, Dubai needs the A380. That is because the emirate's economic plans depend on moving rapidly rising numbers of tourists, businessmen and shoppers through its airports.
Dubai has recovered from the corporate debt crisis and real estate crash which it suffered in 2009-2010 by becoming a magnet for travel and investment from the Middle East, India and Europe.
His Highness Sheikh Mohammed bin Rashid Al Maktoum, Vice President and Prime Minister of the UAE and Ruler of Dubai, made clear this strategy would continue when he announced plans in November to build a tourism and retail complex that would include the world's largest shopping mall, hosting 80 million visitors a year, and 100 new hotels.
Key to those plans, Sheikh Mohammed said, is boosting annual airport passenger traffic through Dubai above 90 million in the next six years. Traffic was about 55 million last year.
"Our development initiatives concerning infrastructure in all sectors should be aligned with this growth rate and we have the determination to reach our objectives and be the first in the region to achieve them," Sheikh Mohammed said.
Capable of carrying over 500 passengers, compared to around 450 in most versions of the Boeing 747, Emirates' superjumbos are ideal for the heavy traffic which Dubai envisages.
In full operation, the new terminal will see a flow of about 10,000 passengers per hour, said Adnan Kazim, Emirates' divisional senior vice president for planning. "This concourse is quite an advantage over other hubs in the world."

RISKS
The high-volume strategy carries risks, however. If air traffic growth through Dubai does not match projections, the emirate could be saddled with billions of dollars worth of airport infrastructure, and a large fleet of planes, which it cannot use at close to capacity.
In addition to Dubai International, the emirate aims by the end of this year to open its new Al Maktoum International airport for passenger traffic. That facility, which began cargo operations two years ago, is designed eventually to cater to 160 million passengers.
Passenger traffic through Dubai is now growing at annual rates above 10 percent, fast enough to reach Sheikh Mohammed's target of 90 million passengers in six years. But growth rates could change if, for example, the global economy slows further because of financial instability or higher oil prices.
In the long term, new technologies could pose a threat; Boeing is developing the 777X jet which is expected to cover longer distances without refuelling. Depending on the plane's specifications, that could conceivably reduce Dubai's attraction as a stopping point between Asia and Europe.
"The interesting point when it comes to the hub theory of being between two places is that benefit may soon go away. New planes may soon be able to overfly and they may not need to stop anywhere," said Nick Cunningham, aerospace analyst at Britain-based Agency Partners.
Meanwhile, Dubai faces growing competition from some of its neighbours. Abu Dhabi, home to Etihad Airways, and Qatar, which operates Qatar Airways, both have ambitions to become regional air transport hubs. They already have fast-growing airlines and are expanding their airports.
"You have got three airlines trying to compete in the same region. It just comes down to how big you are and how hard you can compete," said a senior executive at a Gulf airline.
Emirates' Kazim, however, said the big Gulf airlines would complement each other, so competition was not a threat.
Because the A380 will form a major chunk of Emirate's fleet in future, the airline will keep working with Airbus to develop versions of the plane that suit its needs, he said.
"This will continue in the future in terms of the enhancement of this aircraft, the weight-saving of the aircraft and what kind of missions it could do in the future," he said.
Follow Emirates 24|7 on Google News.