Dubai jewellery cheaper than India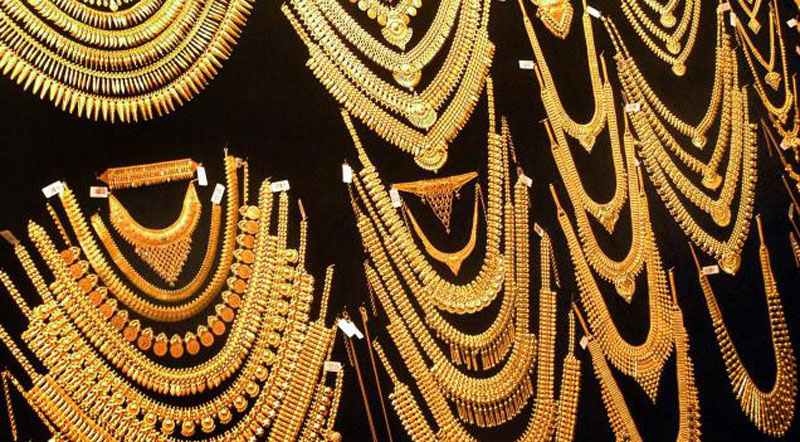 Indian jewellers are stepping up imports of finished gold jewellery from Dubai and Singapore, as a record high import tax on the metal and rising premiums demanded by sellers are choking bullion supplies in the world's second-biggest consumer.

India has put in place measures to dissuade gold buying to tackle a widening trade deficit, including a 10 per cent import tax and a requirement that a fifth of all imports of the metal be shipped out. As a result, domestic sellers are asking for up to 10 per cent more than quoted gold prices for deliveries.

The measures are making finished jewellery imports a viable option and could even reshape the domestic jewellery industry by luring their manufacturing overseas.

Gold jewellery imports have surged nearly four times to 4-5 tonnes in January from 1.0-1.5 tonnes two months prior to that, according to the All India Gems and Jewellery Trade Federation, which represents more than 300,000 jewellers.

A 10-gramme gold chain from Dubai costs 27,000 rupees ($430), about 10 per cent lower than the cost in India, said Raman Solanki, owner of Mumbai-based Sangam Jewels and Gold, who now regularly imports from Dubai. The cheaper price is even after adding a 15 percent duty that finished jewellery imports attract.

Indian jewellers import finished jewellery either to sell directly or to melt to make customised designs.

"Since there is no gold available, we import jewellery as it fits well with our costing. We imported about 700-800 kg of jewellery from Dubai last month," said Prithviraj Kothari, managing director of Mumbai-based Riddhisiddhi Bullions Ltd.

Dubai-based wholesaler Siroya Jewellers, which exports to India, has also seen a spurt in jewellery sales to India.

"There is demand for jewellery from India due to a shortage of gold there," said Rajesh Jain, a partner at Siroya Jewellers.

MANUFACTURING MOVING OVERSEAS?

Cheaper imports of finished jewellery now pose a threat to local jewellery manufacturing units that employ more than 10 million workers, excluding retail store employees.

Hit by lower availability of gold, a few Indian jewellery makers such as Gitanjali Exports are also thinking of raising capacities at their overseas manufacturing units.

"Some jewellery exporters are definitely contemplating shifting part of their production to other locations like Thailand, Malaysia and China," said Sanjeev Agarwal, chief executive of Gitanjali Exports, a unit of Gitanjali Gems .

Gitanjali Exports is planning to increase capacities at its units in China and Thailand, said Agarwal.

To make gold readily available for jewellers, the government should remove the condition that forces importers to export 20 per cent of their overseas purchases, said Bachharaj Bamalwa, director of the All India Gems and Jewellery Trade Federation.

There are indications that India may give in to the demand, but only after March when the government would get to know about the exact extent of the trade deficit.

Gold imports fell to just 21 tonnes in November against a record 162 tonnes in May last year, pushing up premiums to a record $160 an ounce on London prices. It has also triggered a huge rise in smuggling and recycling.

In its efforts to curb illegal imports, New Delhi focuses more on big buyers, with jewellers now required to give details of any purchase of gold bars or jewellery worth more than 500,000 rupees as at the end of January.


Follow Emirates 24|7 on Google News.