Dubai keeps UAE plugged in as GCC's top electronics hub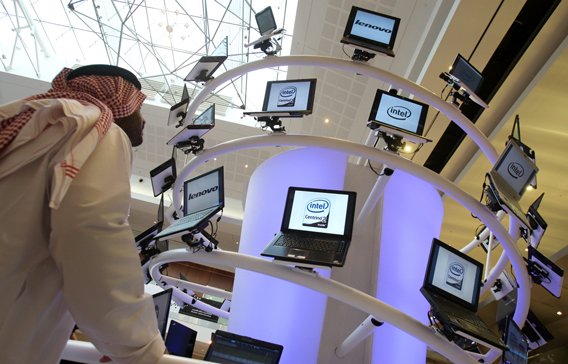 Dubai helped the UAE to retain its status as the largest consumer electronics market in the Gulf, thanks to its organised chain of retailers and wholesalers, well-developed sourcing network and extensive logistics facilities.
Dubai Chamber said in a study on Saturday that Dubai accounts for 80 per cent or Dh8.13 billion of the Dh10.1 billion UAE consumer electronics market as festivals boost the sales, making up 50 per cent of the emirate's sales.
Business Monitor International said in a recent study that he UAE electronic retailers will see modest single digit growth this year to reach more than Dh10.1 billion ($2.77 billion).
The consumer electronics retailers are poised to post steady growth in their revenue stream as the sales will grow more than 32 per cent in the next four years to Dh13.5 billion ($3.67 billion) by 2014.
"Dubai accounted for more than 80 per cent of the UAE's total exports and around 85 per cent of re-exports in 2009. Dubai also imported more than two-thirds of the UAE's consumable electronic goods last year.
In essence, Dubai's electronics sector is boosted by the annual shopping festivals, which accounted for as much as 50% of annual sales for some of the larger distributors in some product categories. Festivals such as Summer Surprises, GITEX Shopper, Consumer Electronics Expo and the Dubai Shopping Festival, as well as a number of trade fairs, have resulted in a significant increase in sales for electronics firms," Dubai Chamber said.
Lcoated at the crossroads of Asia, Africa and Europe, the UAE's strategic locations helps the country's electronics distributors to cater a potential market of two billion consumers.
The study revealed that the Asian, European and American consumer electronics majors use UAE as a preferred testing ground for their new product launches and marketing initiatives.
The report warned that smugglers exploit country's low trade barriers to ship counterfeit electronic goods in to the country and to re-export them to other markets.
"The country's low trade barriers contribute to a growing problem with counterfeit (or grey) market goods.
This illegal import trade is also exacerbated by the proximity of free trade zones such as Jebel Ali, which is the centre for the flourishing re-export trade. With low margins due to the intense competition, parallel imports present a particular challenge to firms," it said,
Looking ahead, electronics firms are increasingly seeing the UAE as a distribution hub of global rather than merely regional significance.
As more firms have established facilities in the UAE, this in turn has brought more expatriate workers and this trend acts as another stimulant to the local consumer electronics market.
BMI earlier projected that the UAE consumer electronic retailers - such as Jackey's and Al Futtaim Electronics - are expecting better times ahead following a sluggish sales in 2009 and early 2010 ahead, thanks to the popularity of new electronic devices and strong purchasing power of people in the country.
The UAE electronic retailers have claimed improved robust sales - particularly televisions - in the first half of this year due to the soccer world cup which took place in South Africa earlier last month. Dubai Duty Free also announced 15 per cent increase in eletronic products sales to reach Dh80 million in the first quarter this year.
BMI study revealed that electronic retail sales growth in Abu Dhabi will outpace other emirates.
The study found that computer hardware accounted for 57 per cent of the UAE's consumer electronics spending in 2009. BMI forecast domestic market computer hardware sales, including notebooks and accessories, of Dh5.76 billion 2010, up from Dh5.47bn in 2009.
The compound annual growth rate (CAGR) for sales of computer hardware over 2010-2014 is forecast at about eight per cent. Stronger demand in the notebook sector was the main growth driver in 2009 as consumers felt the benefits of aggressive channel promotions.
Mobile handset sales accounted for approximately 13 per cent of UAE consumer electronics spending in 2009.
Following a reverse last year, market handset sales are expected to grow at a CAGR of five epr cent to Dh1.52bn through to 2014, when mobile subscriber penetration is forecast to reach 254 per cent.
The UAE already enjoys the highest mobile penetration in the Arab world, reaching 193.5 per cent at the end of 2009 third quarter.
Mobile phone sales will be dominated by the replacement market and revenues driven by demand for smartphones and 3G handsets, despite problems concerning availability of the Apple iPhone in the emirates, the study said.
Follow Emirates 24|7 on Google News.