Dubai's foreign trade steady at Dh1.331 trillion in 2014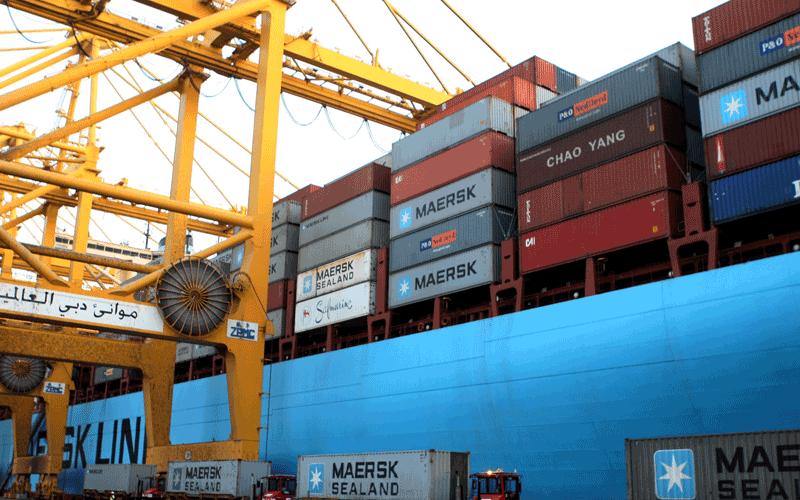 Dubai's non-oil foreign trade scored a steady growth in 2014, rising toDh1.331 trillion from Dh1.329 trillion in 2013. Out of the overall trade, imports had the biggest share with a value of Dh845 billion while exports and re-exports to the emirate reached Dh114 billion and Dh372 billion respectively.
Figures released by Dubai Customs show that direct trade contributed Dh818.8 billion of Dubai's total foreign trade value, while free zones trade represented Dh 488.7 billion and the customs warehouses Dh23.8 billion.
The growing Dubai's non-oil foreign trade enhanced the good economic performance of Dubai in particular and the UAE in general in 2014. The impressive commercial growth coincides with the outset of the national economy into propitious prospects, fully equipped with the wise leadership's inception of innovation and creativity as a driving catalyst towards higher progress and a more diversified economic structure.
Dubai has further diversified its foreign trade. The full transformation into the world's smartest city and implementation of the Smart Government created a tangible increase in the trade of IT smart applications and devices.
Of the commodities traded, phones topped the list with a growth of 9 per cent, mounting to Dh178 billion. Likewise computers recorded a parallel 9 per cent growth at Dh53 billion. Dubai's trade of personal-use and transportation vehicles also jumped 30 per cent to stand at Dh68 billion.
The thriving tourism sector resulted in an 8 per cent growth in jewellery trading, adding up to Dh55 billion. Dubai's petroleum oils trade, on the other hand, went up 10 per cent to score Dh39 billion. As for the aviation industry, trade in rotorcraft and light aircrafts levelled up to 16 per cent in growth with a trade value of Dh 22 billion, while air jets turbine engines trade increased 7 per cent totalling Dh20 billion. Satellite receivers trade was valued at Dh17 billion with an equal surge of 8 per cent.
Additionally, Dubai has further expanded its foreign trade markets in 2014, marking a notable boost in its trading with China which topped Dubai's foreign trade partners with a trade value of Dh175 billion, up 29 per cent from 2013. This progress serves as evidence to Dubai's pivotal role in the Dragon's trading with the world. It also reflects the emirate's capacity to successfully link European, African and international markets with the Chinese and East Asian markets.
India came second among Dubai's major trading partners with a value of Dh109 billion, followed by the United States at Dh83 billion. The Kingdom of Saudi Arabia was Dubai's fourth trading partner globally and first in GCC-Arab world with a total trade value of Dh52 billion.
Germany followed with Dh45 billion of trade, then Switzerland with Dh43 billion. There was also Dh43 billion in trade volume with Japan and Dh40 billion with the United Kingdom. The lowest share was that of Iraq at Dh37 billion.
Commenting on the impressive trade figures, Sultan Ahmed bin Sulayem, Chairman of DP World and Chairman of Ports, Customs and Free Zone Corporation (PCFC), said, "Dubai's foreign trade remains a cornerstone of the prospering UAE economy. These figures are clear indicators that the state's broadly diversified economy is well established now. We at PCFC are fully determined to back this drive, spurred by a spirit of innovation."
"Dubai has upheld its stature as a key player in global trade actively connecting both ends of the world, attested by a staggering double digit growth of 8 to 30 per cent in 8 major trade sectors in 2014. A steady increase in trade with Asian countries was the major hallmark, as China, India and Japan are some of Dubai's key trading partners, next to the USA, Germany, Switzerland, and the UK. KSA heads the list of Arab non-GCC trading partners. The cutting-edge port, customs, free zone and logistics services have made Dubai the logical place to do business in the Middle East, providing investors with a unique and comprehensive value-added platform," said Bin Sulayem.
Ahmed Mahboob Musabih, Director of Dubai Customs, said: "The ability of the emirate to withstand the impact of the global financial swings demonstrates its financial and monetary stability. Despite the global decline in prices of basic commodities and the drop of gold prices, Dubai efficiently manoeuvred these fiscal turmoil by projecting a good foreign trade performance in 2014. We are confident that the current progress in foreign trade shall drive our march towards realizing the goals of UAE Vision 2021 and Dubai Plan 2021. In response to the key themes defined therein, we have devised our future plans for Dubai Customs to have a greater contribution in building Dubai's envisaged picture in the year 2021: a pivotal hub in the global economy, a sustainable smart city with a pioneering and excelling government."
The Director of Dubai Customs further noted, "We have finalised the Virtual Corridor, which enables the movement of goods among handling authorities and shipping agencies in seaports and airports using faster, easier, simpler and more cost-effective customs procedures. Moreover, we have stepped up DC's inspection processes by completing the Inspection planning project to save our customers' time and effort through a prior booking facility for inspections."
Dubai Customs, he added, plays a key role in facilitating inbound and outbound trade flows across Dubai. "To assume this role to the fullest, we have put in place latest smart technologies. Our entire array of services is delivered 24/7 on smart gadgets. Meanwhile, we are transforming all our processes into smart apps and empowering employees to carry out and further nurture our development plans," Musabih said.
Follow Emirates 24|7 on Google News.