Dubai's Khaitan Holdings to invest in RAK, Fujairah mines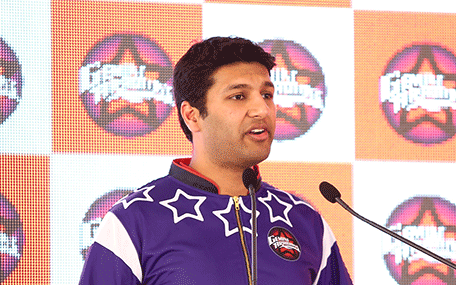 Dubai-based Khaitan Holdings, which has interests in different sectors, will invest in limestone mines in Ras Al Khaimah and Fujairah, said a senior company official.
Speaking to Emirates 24l7 in an interview, Nalin Khaitan, Vice-Chairman of Khaitan Holdings, said: "We are looking to invest in Ras Al Khaimah and Fujairah mines as there's a lot a lot of limestone and that's of key interest to us. We're in talks with owners to acquire mines and hopefully before the year-end the mines will be up and running either in Ras Al Khaimah or Fujairah. Each mine will be costing not less than $15-20 million, besides capital expenditure, government fee, goodwill cost to the mine owners etc So each mine will be costing nothing less than $25-30 million.
"We would look to start at least with one (mine) this year because it's not that easy to start a mine – a lot of planning goes into it. If it's not already running mine, it takes 6-8 months to get the mine active. There are a lot of mines today in Ras Al Khaimah and Fujairah," he said.
The UAE, according to Nalin, is the main source of limestone in India as almost all the steel plants on its west coast have reported import of limestone from either UAE or Oman because it is logistically cheaper for them to ship it from here rather than truck it from other places in India. It makes a $7-8 difference a tonne to just get it imported than trucking, he added.
Khaitan group, with interests in mines, trade, sports and telecom, has already invested in mines in Iran and Oman. Khaitan Holdings' latest entry was into the sports sector, buying Gemini Arabians team, which is part of the Masters Champions League (MCL), the T20 cricket league to be held in the UAE in January-February 2016.
"We already have mines with large investments in Iran which were pre-sanctions period. Once sanctions set in, that was put on hold for the time being. I hope things will clear up in the next six months and we can start," Khaitan Vice-Chairman told this website during an interview.
The group had invested in Indian telecom sector but now it's winding down business due to change in Indian government's policy regarding licensing.
"We had huge telecom investments in India which came down in 2015. Our licence expired so we're in the process of winding down that business completely. That is taking a lot of time. We had 700 people in Mumbai alone with over 3.1 million subscribers," he added.
Loop Mobile was the second largest single circuit operator in Mumbai with over 3 million subscribers.
"The licence expired we couldn't renew because India suddenly moved from application to auction policy so it was not feasible financially for us."
Nalin is pinning hopes on new sports venture to deliver for the group.
"There is huge growth potential for cricket here in UAE, MCL is here and PSL (Pakistan Super League) is also here now. We want Gemini Arabians to be brand… we don't want Gemini Arabians to be remembered for just twenty days of cricket," Nalin elaborated.
Follow Emirates 24|7 on Google News.