Dubai sets up e-commerce hub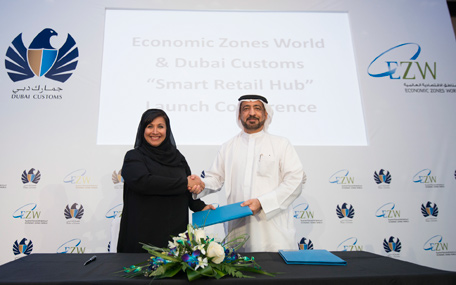 Economic Zones World (EZW) and Dubai Customs on Monday launched world's first purpose built smart retail hub named "matajircom".
The initiative, capitalizing on the phenomenal growth of e-Commerce, seeks to transcend markets from local to national and national to international levels. The project is part of Economic Zones World's vision to be the global hub of the upcoming e-economy and Dubai Customs' focus on becoming the world's leading facilitator of international trade.
Through this inclusive initiative, EZW, in collaboration with Dubai Customs, puts in place an eco-system that brings all players in "e" domain to partner and collaborate with each other in a synergetic and rewarding experience enabling a customer initiate online trade with utmost precision. The e-commerce hub will be located in TechnoPark.
Salma Ali Saif Bin Hareb, Chief Executive Officer of Economic Zones World, the parent company of TechnoPark, and Ahmed Butti Ahmed, Executive Chairman of Ports, Customs and Free Zone Corporation and Director General of Dubai Customs, formally announced the launch of the e-Commerce hub in the presence of founding partners and key customers.
The founding partners, represented by their senior executives, included Aramex - Mohammad Alkhas, CEO-GCC; Cupola - Humaira Majid, Chief Operating Officer; CWT-SML Logistics - Marcel Cheong, General Manager; du - Fahad Al Hassawi, Chief Commercial Officer; Dubai Trade - Mahmoud Al Bastaki, CEO; ENBD; MasterCard - Eyad Al-Kourdi, Country Manager-UAE; Mohebi Logistics - Phil Showering, Chief Operating Officer; Shop Go - Mohanad Ghashim, CEO and UPS - Paul Bayer, General Manager, Middle East.
Salma Hareb said: "Economic Zones World has always been at the forefront of innovation, bringing about faster, reliable and more efficient solutions for businesses, enabling them to have a local base and a global reach. Continuing with this tradition of providing cutting edge products backed by right systems, processes and reliable infrastructure, I am pleased to announce the launch of our e-Commerce initiative, world's first purpose built e-Commerce hub. The initiative brings about paradigm shift in the e-Commerce landscape, expanding markets from local to national and national to international."
Ahmed Butti said: "The new project will serve as a comprehensive platform providing integrated solutions to customers focused on e-Commerce. Dubai Customs is fully committed to provide all the services and facilities required to enable the growth of e-Commerce in the region. It is the first government department in the Emirate to become "fully Intelligent" in terms of service offerings, doubling its capacity to conduct transactions. Dubai Customs services are available around the clock , seven days a week, allowing a customer to submit requests at any time and from anywhere in the world.
Key features – 100 per cent ownership
The key features of EZW and Dubai Customs' eco-system include e-Commerce tailored regulations and one-stop-shop solutions; physical fulfillment facilities and services; world-class financial infrastructure and payment gateway; high speed Internet; storefront developer; e-marketplace platforms; and call centre services.
E-commerce tailored regulations and one-stop-shop solutions will offer licensing, leasing and other utilities supported with world-class customs services.
The upcoming hub will allow a customer - 100 per cent ownership, 100 per cent repatriation of capital and profits, and will offer zero per cent corporate and income tax.
The hub's physical fulfillment facilities and services will comprise e-Commerce tailored small, medium, large warehouses (including 3rd party managed warehouses), offices, infrastructure ready plots of land, along with a highly efficient transport and logistics solutions.
The e-Commerce hub's financial infrastructure and payment gateway will allow fast and secured processing of international, regional and local credit cards, pre-paid cards, debit cards, or direct debit. High speed Internet will allow superfast, reliable and cost effective Internet access.
The hub's store front developers will offer full-service e-commerce platforms ready to service enterprises or start-up targeting B2C or B2B, developing customized storefronts, payment gateway integration, products configuration, backend integration to accounting systems and other web services.
Through e-marketplace service providers, a company will be able to list a product, ship to customers through a third party fulfillment services, and collect payment, making easy, worry-free sale.
Fully equipped world class customer contact solutions and call centre services for e-Commerce retailers will manage inbound sales, order-processing, technical support, 24x7x365 to fit various retailers' needs and budgets.
EZW e-Commerce eco-system is modeled on the ordering experience and takes care of every step on the way right from building an e-store, placing an order, making, receiving, clearing payment, fulfilling an order, to managing customer service.
The work on the project will start in April this year. The e-Commerce business hub will be fully operational in the 2nd quarter of 2015. EZW e-Commerce hub seeks to attract established e-retailers, large retailers aspiring to embark upon e-retail, start-ups and entrepreneurs interested in e-commerce.
GCC e-Commerce industry is estimated to grow 35 per cent year-on-year to USD 15 billion in 2015 according to Visa International, making it the world's fastest-growing market for e-Commerce. The regional e-Commerce market is currently valued at USD 8 billion. According to Internet World Stats, there are over 90 million Internet users across the MENA region. Over the last few years, the number of online retailers has steadily climbed in the region, with the UAE making up the biggest share of the region's e-Commerce market, followed by Saudi Arabia.
Follow Emirates 24|7 on Google News.