Egypt drives DPW to 7-week low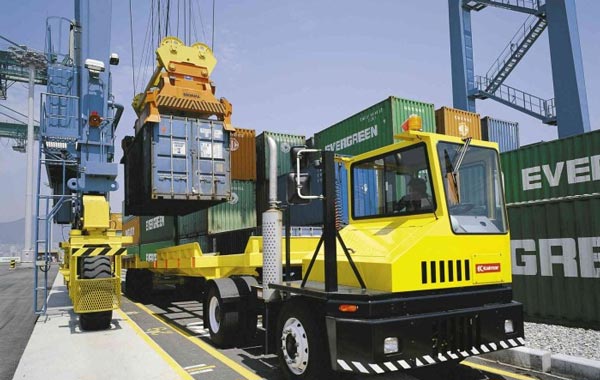 DP World tumbled to a seven-week low on Tuesday after the ports operator suspended activity at its Egypt facility as a precautionary measure.
DP World's shares dropped 6.4 per cent, slumping to their lowest level since December 16.
"DP World Sokhna is closely monitoring the situation in Egypt," a spokeswoman said in an e-mailed statement on Monday.
"The terminal, and as a precautionary measure, has temporarily suspended operations. The security of our people remains paramount and we are doing whatever necessary to ensure the safety of all our people."
Aramex fell 2 per cent after the logistics operator warned its costs will rise because of inflationary pressures and higher fuel prices. It reported a fourth-quarter profit of Dh55 million, up 11 per cent from the year-earlier period to bear analysts' forecasts.
Dubai Financial Market (DFM) dropped 1.5 per cent, weighing on Dubai's index, which slipped 0.2 per cent to 1,532 points.
Abu Dhabi-listed Dana Gas fell 1.6 per cent, equaling the previous day's 33-week low. The firm, which has significant operations in Egypt, is confident about being paid by customers there and will evacuate foreign staff if the political crisis in Cairo deepens, its chief executive said on Monday.
Aldar Properties Etisalat dropped 1.2 and 1 per cent respectively.
Abu Dhabi's Securities Index dropped 0.5 per cent to 2,574 points.
Overall, Middle East markets are seen trading flat-to-lower on Tuesday, with little reason for investors to push stocks higher while Egypt's political fate remains in the balance.
Stocks will be volatile, traders say, with all regional benchmarks in the red this week. Technicals and fundamentals will take a back seat while sentiment shapes investor behaviour in the short term.
"Investors are still very tense in their investment decisions and affected by the developments in Egypt," Mohammed Yasin, CAPM Investment chief investment officer, said.

"The fact that our markets rebounded less than the drops that took place earlier in the week hints technically that buyers are still not fully in and booking profits is what takes place with every market-positive movement.
"Therefore, expect sideways to downwards movement rather than upwards for today," he added.
Follow Emirates 24|7 on Google News.