Eli Lilly in Dubai Healthcare City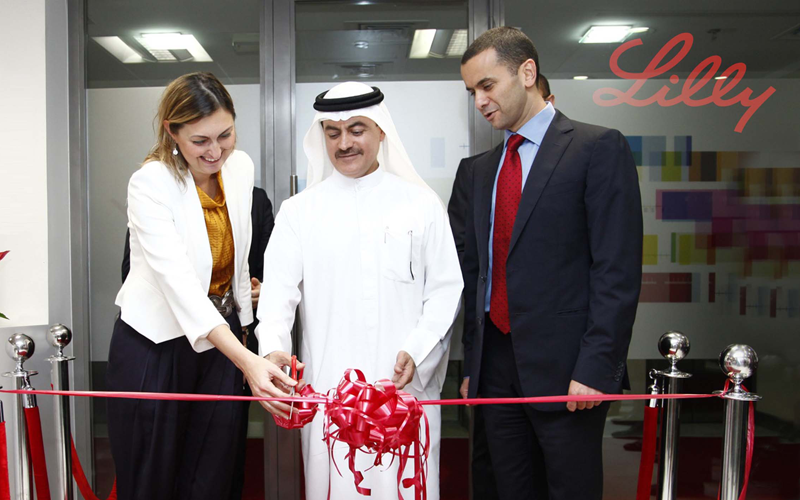 Dr. Amin Hussain Al Amiri, Assistant Undersecretary for Medical Practice and License Sector at the UAE Ministry of Health, has inaugurated Eli Lilly and Company's new regional headquarters for Turkey, Middle East, Africa, Russia and the CIS (TMEA-CIS) in Dubai Healthcare City, UAE.
Lilly, the world's tenth largest pharmaceutical company, will manage its operations across more than 70 markets from its new base in Dubai. Lilly business areas cover Diabetes, Oncology, Bio –medicines and Animal Health. The new TMEA-CIS headquarters employ 75 persons.
In 1923, Lilly was the first company to commercially introduce insulin for the management of diabetes, and today the company continues to invest and innovate in the fields of diabetes research, education and management.
Speaking at the opening, Dr Al Amiri said: "The United Arab Emirates hosts 90% of the regional offices of the global pharmaceutical companies. We are very happy with Lilly's decision and initiative to establish a regional office in Dubai that covers several countries, beyond the Middle East Region".
He added: "The Ministry of Health is committed to encourage innovation and to bring the latest innovative and Generic products to the patients in the UAE".
Nabil Daoud, Vice President and Area Director, TMEA – CIS, Eli Lilly, said: "We chose the UAE as the base for our new regional headquarters because this country and its leadership have made a clear and coordinated commitment to quality healthcare and to create an environment that encourages and supports innovation in medical care and treatment. In addition, its stability and geographic location, being close to a large number of emerging markets made it the country of choice for a Lilly regional hub".
"We are honoured and privileged to have the support and presence of His Excellency Dr. Amin Hussain Al Amiri at our official office inauguration. We look forward to contribute to the healthcare sector development in the UAE and the region by making available our innovative products to patients and helping them achieve longer and healthier lives."
Lilly currently has the richest mid-to-late stage pipeline in its history, representing a variety of therapeutic areas including cancer, diabetes, neuroscience and autoimmunity. It has been consistently ranked as one of the best companies in the world to work for.
Follow Emirates 24|7 on Google News.