Emaar's 2015 net profit rises 11% to over Dh4 billion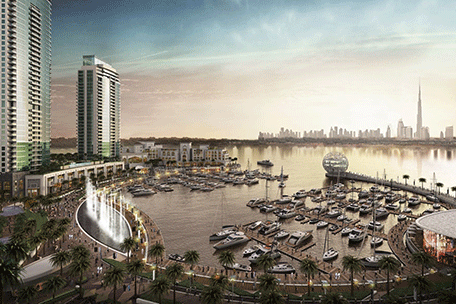 Emaar Properties recorded net profit of Dh4.08 billion for 2015 as compared to Dh3.66 in the previous year, registering a rise of 11 per cent.
It recorded full-year 2015 net operating profit of Dh4.383 billion ($1.193 billion), 18 per cent higher than 2014 net operating profit of Dh3.724 billion (US$1.014 billion).
Emaar achieved full-year 2015 revenue of Dh13.661 billion ($3.719 billion). This is 33 per cent higher than 2014 revenues of Dh10.301 billion ($2.805 billion).
The shopping malls & retail and hospitality & leisure businesses recorded recurring revenues of Dh5.788 billion ($1.576 billion), 42 per cent of the total revenue. This is 8 per cent higher than the 2014 revenue from the two businesses at Dh5.367 billion ($1.461 billion).
Revenue from international operations of Emaar, which has an impressive footprint across the Middle East, North Africa, South Asia and USA increased by 46 per cent to Dh2.620 billion ($713 million) compared to Dh1.791 billion ($488 million) in 2014. Emaar's international operations now account for 19 per cent of the total revenue.
Emaar's net operating profit for the final quarter (October to December) 2015 was Dh1.335 billion ($363 million), 58 per cent higher than the third-quarter (July to September) 2015 figures of Dh843 million ($230 million) and 28 per cent higher than same period last year. Revenue for Q4 2015 was Dh3.812 billion ($1.038 billion), 15 per cent more than the Q3 2015 revenue of Dh3.329 billion ($906 million) and 58 per cent higher than same period last year.
Mohamed Alabbar, Chairman of Emaar Properties, said that the positive growth is underpinned by Emaar's strategy of creating long-term value for its stakeholders by developing premium real estate assets and strengthening its shopping malls & hospitality businesses which provide a recurring revenue stream that supports the company's sustainable growth plan.
"Our businesses benefited from the positive performance of Dubai's economy with the core sectors of retail, hospitality, tourism and aviation setting impressive milestones in 2015. The expansion of our flagship Downtown Dubai, which will see the opening of Dubai Opera this year, and our joint venture mega-developments such as Dubai Creek Harbour and Dubai Hills Estate, will further contribute to the smart and sustainable urban infrastructure of the city."
Strong property sales
During 2015, demand for residential property in Dubai has been strong with total sales at Dh10.23 billion ($2.79 billion). Sales across various international markets during the same period were valued at Dh5.05 billion ($1.37 billion).
Emaar Misr, the Egyptian subsidiary of Emaar Properties, which is listed on The Egyptian Exchange, achieved an increase of 22 per cent in year-on-year sales in 2015 to EGP 8.644 billion ($1.108 billion).
To date, Emaar has handed over more than 40,000 residential units in Dubai and other international markets. Of these, to date, over 33,600 units were handed over in Dubai.
Through 2015, Emaar marked the launch of several prestigious projects in Dubai including Dubai Creek Residences, Creekside 18 and Harbour Views within Dubai Creek Harbour, a 6 sq km ultra-modern development located along the historic creek and near the Dubai International Airport. With spectacular views of the Dubai Creek, the Ras Al Khor Wildlife Sanctuary and the Downtown Dubai skyline, the development is anchored by The Island District with a 4.5 km boardwalk, a vibrant retail and leisure precinct, and a new iconic structure.
The ongoing projects of Emaar in Dubai, in various stages of progress, include: The Address Boulevard Dubai; The Address Fountain Views I, II and III; The Address Sky View; Vida Residences Downtown Dubai; BLVD Crescent; BLVD Heights; Boulevard Point; Burj Vista and Downtown Views – all in Downtown Dubai.
Emaar is also developing Opera Grand, Forte and The Address Residences Dubai Opera, premium collections of residences in The Opera District of Downtown Dubai, which is anchored by Dubai Opera, an iconic centerpiece set to open later this year.
Emaar's development pipeline in Dubai also includes Aseel, Lila, Palma, Rosa, Rasha, Samara, Azalea and Yasmin homes in Arabian Ranches; The Hills and Vida Residences The Hills in Emirates Living; Acacia at Park Heights, Mulberry at Park Heights and Maple – in Dubai Hills Estate.
Growth in recurring revenues
The hospitality & leisure business recorded 2015 revenues of Dh1.677 billion ($457 million). Hospitality revenues now account for 12 per cent of the total revenue of Emaar.
Emaar's flagship hotel brands, The Address Hotels + Resorts and Vida Hotels and Resorts recorded strong occupancy levels in 2015, reflecting the increase in tourist arrivals to Dubai last year. The average annual occupancy at The Address Hotels + Resorts was 86 per cent, higher than the industry average.
Emaar will roll out the first hotel under the new Rove Hotels brand in the coming months. Developed as a joint venture with Meraas Holding, Rove is a contemporary mid-market lifestyle hotel brand. Emaar currently has over 2,660 keys under the Rove brand in various stages of development to support the ongoing preparation for Expo 2020 Dubai.
The Address Hotels + Resorts and Vida Hotels and Resorts have also signed management contracts to operate hotels and serviced residences in high-growth international markets such as Egypt, Turkey, Nigeria and Bahrain.
With approximately 6 million sqft of gross leasable area, Emaar Malls, the shopping malls and retail business majority-owned by Emaar Properties, posted a net profit of Dh1.656 billion ($451 million) for 2015. This is 23 per cent higher than the 2014 net profit of Dh1.351 billion ($368 million).
Emaar Mall's 2015 revenues recorded a growth of 11 per cent to Dh2.992 billion ($815 million), compared to Dh2.694 billion ($733 million) in 2014. Visitor arrivals across all Emaar Malls assets crossed the landmark 124 million in 2015, an increase of 9 per cent compared to 2014.
Emaar has a land bank of approximately 195 million sq m in Dubai and international markets.
Follow Emirates 24|7 on Google News.