Emirates Banks Association signs MoU with Korea Federation of Banks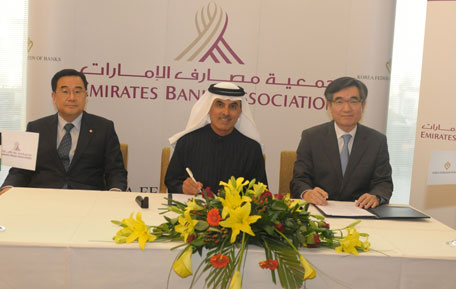 Emirates Banks Association announced that it has signed a Memorandum of Understanding (MoU) with Korea Federation of Banks in Dubai, covering cooperation of relevant activities between both parties.
The agreement supports EBA's strategic plan to promote and develop bilateral ties with KFB.
The MoU was signed by Abdul Aziz Abdulla Al Ghurair, Chairman of the Emirates Banks Association, and Kim Young– Dae, Vice-President of Korea Federation of Banks, in the presence of J Kyo Taek, Economic Counselor, Korean Embassy in UAE, joined by high ranking Korean delegation.
Both parties emphasised cooperation on banking industry related activities including exchange of information, workshops, education and training programmes.
The MoU confirms the eagerness of both parties to establish a strong communication channel to support the business development of their member banks in UAE and Korea given the growing number of Korean companies operating in the country, which amounted to 160, while numerous UAE companies are investing in Korea in different sectors such as exploration of oil, aluminum manufacturing, manufacturing industries, shipping and telecommunications.
The MoU is being prompted by the development of economic ties between United Arab Emirates and Korea as the size of trade exchange between the two countries during the year 2011 grew by 24% to about $22 billion, as well as in line with the desire of both countries to enhance joint investments and advance economic relations and promote cooperation in various vital areas. Wam
Follow Emirates 24|7 on Google News.