Empower's 2015 profit climbs 27% to Dh516 million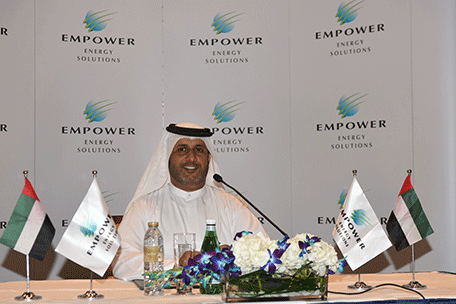 Dubai-based district cooling services provider Emirates Central Cooling Systems Corporation (Empower) recorded a net profit of Dh516 million for fiscal year ended December 2015, representing an impressive 27% increase over 2014.
Total revenues for the year reached Dh1.66 billion, a 12% increase YoY.
"Empower achieved an annual increase of6.7% in its cooling capacity, to pass it over 1,115,000 Refrigeration Tons (RT) in 2015. Moreover, the company boosted its production and commissioned new plants," said Ahmad Bin Shafar, CEO of Empower.
Bin Shafar pointed out that the company increased its workforce by 13% in 2015.Bin Shafar added:
"The district cooling industry achieved significant growth in 2015 not only in the UAE but also internationally. Many countries are now more determined to adopt district cooling, thus reducing their dependence on conventional cooling systems. It is a matter of pride for UAE to be at the forefront of countries that deployed district cooling technologies since a long time."
Empower signed many contracts in 2015, one of these contracts is to build Business Bay District Cooling Plant 3 (BB – 3) project. The Plant will be operational in the second quarter of 2016. Moreover, Empower won a strategic contract with Bluewaters LLC, the subsidiary of the master developer Meraas Holding, to provide the Bluewaters flagship project in Dubai with 25,000 refrigeration tons (RT) of district cooling services. In addition, Empowerawarded a contract to build chilled water pipes network across Madinat Jumeirah Phase 4 to facilitate it with district cooling systems, plus many others projects.
Follow Emirates 24|7 on Google News.