Enoc aims to franchise 11 new outlets of its pizza chain by Q3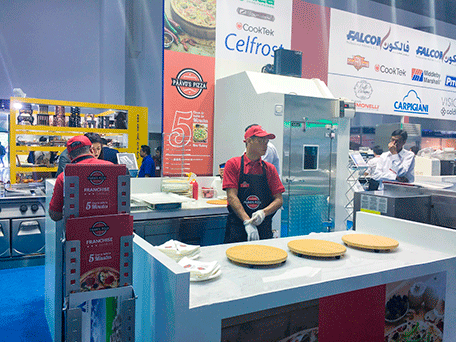 Eppco, the retail arm of Emirates National Oil Company (Enoc), has made significant investments to expand Paavo's Pizza outlets to the GCC market.
Burhan Al Hashemi, Managing Director of Eppco, said: "The Middle East is witnessing an incredible growth pace, and we are matching its progress. We are expecting a 75 per cent growth rate in 2016, and estimated our revenue growth rate to be 120 per cent. We are present across multiple locations and have more outlet openings in the pipeline. At the moment, we have eight outlets in Dubai, and planning on opening 14 new outlets in the GCC market. Gulfood is the perfect networking platform for us to meet with prospective franchisees and monetize opportunities in emerging markets."
The company is scheduled to franchise 11 new outlets in the region by Q3 2016.
The UAE F&B sector is resilient and is expected to grow at four percent annually, as per the KPMG Food and Beverage Survey. In 2015 the sector was valued at Dh42.9 billion, and is expected to grow to Dh48.5 billion by 2018.
"To maintain the stride of the budding industry, we have a constantly growing team that has additions week on week. After opening eight outlets in eight months, we are considered the fastest growing chain in the United Arab Emirates. By the end of 2016, we are looking at opening multiple outlets in the region. We are currently present across eight locations in Dubai, and are working towards launching a new outlet in Abu Dhabi very soon", added Al Hashemi.
Enoc Retail eyes 40% growth in network capacity by 2020
The retail business segment of Enoc plans to increase capacity by 40 per cent between 2016 and 2020 across its network of service stations in the UAE.
The growth plans include ongoing renovation of two major service stations in Dubai Internet City and Oud Metha and the construction of 54 more stations in Dubai.
The expansion will meet Enoc's long-term strategic objectives which are aligned with the Dubai Plan 2021 of creating a 'Smart & Sustainable City' for 'Happy, Creative & Empowered People'.
Burhan Al Hashemi said: "We are looking at an increased growth over the next few years as Enoc expands and aims to be an international integrated oil & gas player. Our service station expansion programme is part of our growth strategy and we hope to alleviate some of the issues for our valued customers as we innovate to implement new technologies to promote sustainability, enhance customer experience and ensure the highest standards of health and safety".
The renovated service stations will ensure safety, easier entry and reduced queuing at pumps. In addition to more dispensers, these stations will also have fully-fledged automotive services and retail stores, including Zoom and Autopro.
The stations will feature new energy saving technologies, such as the use of a photo voltage (PV) solar panels system which will be installed onto the main canopy of the service stations to generate power with the Dewa grid system.
The Dubai Media City service station, which is currently being renovated, is expected to start operating in June 2016. This will be the first of the planned projects underway to showcase this sustainable technology. The new 120Kw PV system will utilise solar energy to power the daytime electrical requirements at the station, thereby making it much more efficient and environmentally friendly for the overall community.
In terms of new builds, Enoc currently has seven stations under construction in Al Barsha South 1st and 4th, Al Ruwaiyah, Warsan 3rd, Al Sofouh, Discovery Gardens, and Oud Metha. Additional locations planned for 2016 and 2017 include eight stations across Jumeirah Village, Dubai Investment Park 1st, Al Marmum, Nad Al Sheba, Dubai Industrial City 3rd, Al Lusaily, Dubai Al Ain road and Hatta.
Enoc Retail is currently operating a network of over 112 service stations in Dubai and the Northern Emirates Regionally; Enoc currently has three service stations in Saudi Arabia with plans to build 11 more in 2016.
In 2015, over 85 million people visited Enoc/Eppco service stations across Dubai and the Northern Emirates.
Follow Emirates 24|7 on Google News.