EU-funded e-commerce conference brings together policymakers and business representatives in Dubai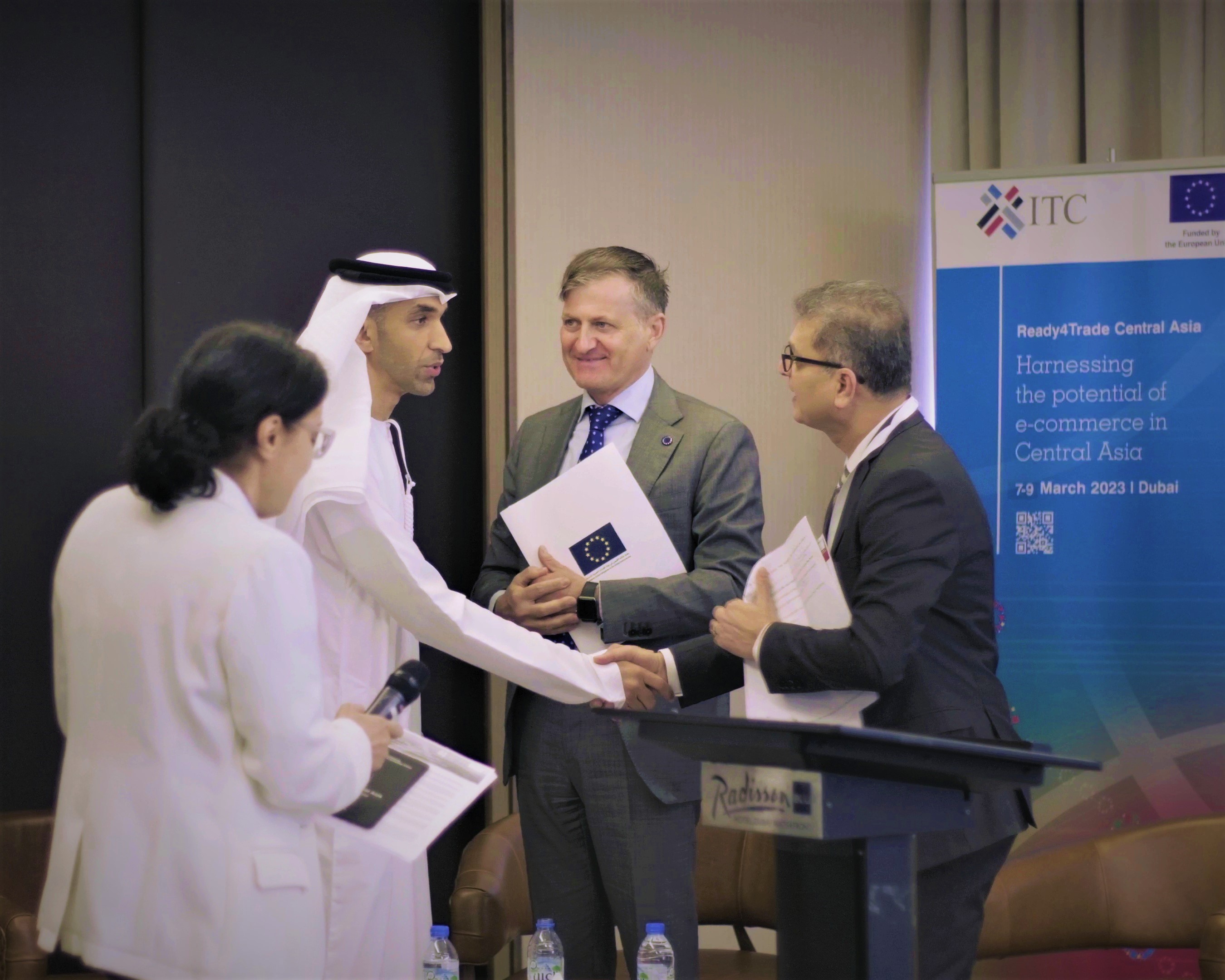 EU-funded e-commerce conference brings together policymakers and business representatives in Dubai
Building regional collaboration to boost e-commerce across Central Asia
On 7-9 March, the International Trade Centre's EU-funded Ready4Trade Central Asia project organized a conference on "Harnessing the potential of e-commerce in Central Asia" with a two-day study tour in Dubai.
Central Asia's e-commerce industry is growing rapidly, driven by increasing internet penetration and mobile phone use, as well as a growing middle class. According to IMARC Group, the e-commerce market size in Central Asia reached $8 billion in 2022 and is expected to grow at a compound annual growth rate of 25.4% over the next five years.
Collaboration at the regional level can be essential for the success of the e-commerce industry in Central Asia. To build regional momentum, the project brought together policymakers and business representatives from Kazakhstan, Kyrgyzstan, Tajikistan, Turkmenistan and Uzbekistan for this three-day event.
At the conference participants had the opportunity to share knowledge with their peers, explore potential areas of public-private collaboration, identify key national policies and regulations to be addressed, and discuss ways to further strengthen trade cooperation within Central Asia to embrace e-commerce at the regional level. They also launched NOVICA's Artisan Empowerment Hub, its 10th around the world. This new hub provides entirely new online sales channels to the artisans in Central Asia enabling them to sell to international customers worldwide.
During a two-day study tour participants visited local fulfilment centres and explore best e-commerce practices from international players and the United Arab Emirates, which holds the largest B2C e-commerce market and is an e-commerce leader among the Gulf Cooperation Council, with more than 60% of the online buyers based in Dubai. In addition, 90% of all e-commerce items are imported, which makes it a valuable place to explore potential partnerships.
Quotes
'The UAE is now a leading global e-commerce hub, leveraging our world-class logistics infrastructure, unrivalled connectivity and state-of-the-art fulfilment capabilities to connect the region's products and services with customers on every continent. We welcome the opportunity to help the nations of Central Asia develop their e-commerce sector and unlock an entire world of opportunity for their manufacturers, industrialists and entrepreneurs.'
H.E. Thani Al Zeyoudi, UAE Minister of State for Foreign Trade
'In the framework of the EU strategy on Central Asia, the EU is partnering with Central Asian countries for resilience and prosperity. E-commerce is a strong engine for increased trade and economic growth. This will unlock significant potential by fostering the development of a competitive private sector and fostering a sound and open investment environment. This EU funded project is promoting the simplification and harmonisation of customs procedures as well as the development of cross-border e-commerce.'
H.E. Andrea Matteo Fontana, European Union Ambassador to the United Arab Emirates
'There is no doubt that e-commerce has become our reality and is an important opportunity for businesses of all sizes to expand their online presence. Not to mention that small and medium-sized enterprises account for the majority of businesses worldwide.'
Ashish Shah, Director, Division of Country Programmes, International Trade Centre
Follow Emirates 24|7 on Google News.