Eurozone making 'outstanding' progress on crisis: Draghi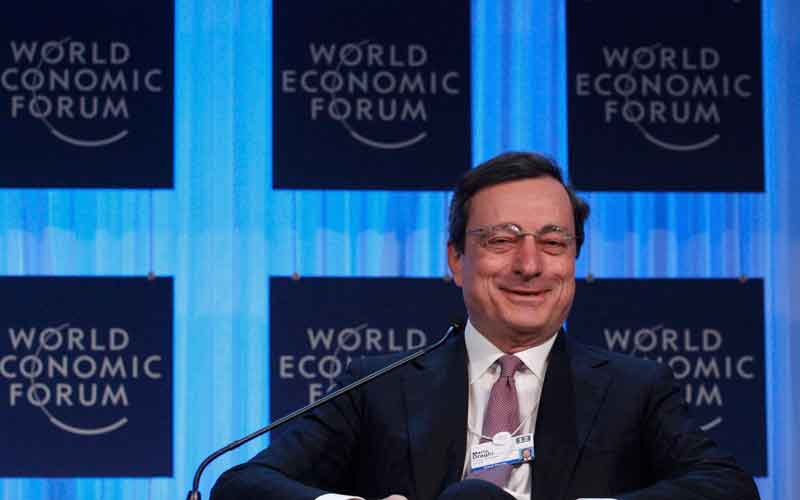 European Central Bank president Mario Draghi said Friday that the eurozone had made "outstanding" progress in its efforts to resolve the sovereign debt crisis.
"The amount of progress is outstanding," Draghi said at the Davos forum in Switzerland. "If you compare today with even five months ago, the eurozone area is another world."
Draghi said that the fiscal compact most European states are negotiating it crucial to efforts to resolve the crisis, praising governments' willingness to give up sovereignty.
"If we look at the progress of the fiscal compact, three months ago this was not even a question to ask," he said.
Draghi said a lack of regulation was one of the main causes of the crisis which erupted four years ago but he said governments were now moving to address this although they needed to move quicker to put their plans into practice.
"The key root cause of the financial crisis were very serious regulatory flaws in the major financial jurisdications," said Draghi.
"The time that has elapsed since then has seen an extraordinary development in the regulatory policy design, much has been discussed and put on paper but relatively less policy implementation.
"Democracies have their own time," he added.
Draghi said that some of the other fundamental problems had also been addressed in the banking sector.
"Very much has happened in the positive sense in the market place. Banks today have more capital, less debt, somewhat more immune from the perverse incentives that characterised the crisis," said the Italian.
"We can say that the last two years, from a financial perspective, have been anything but tranquil, anything but stable, but still the financial system proved resilient."
Follow Emirates 24|7 on Google News.