Ford, Lincoln sales jump 10% in 2012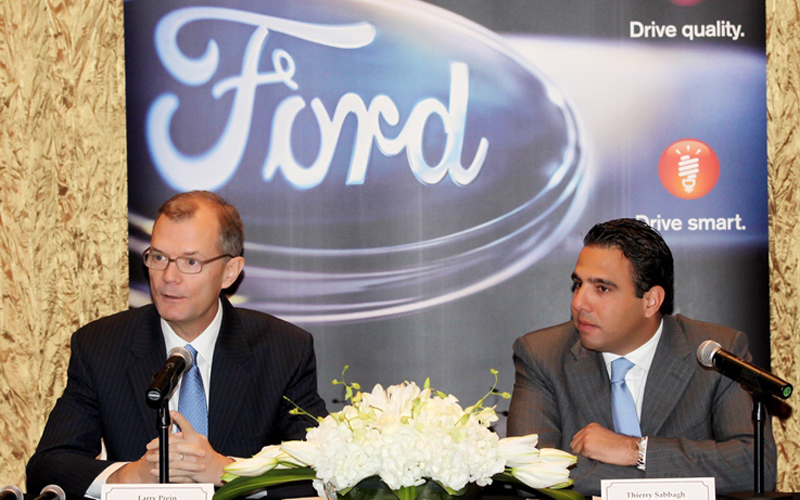 Ford and Lincoln sales in the Middle East closed 2012 on a high note, breaking the 75,000 unit barrier – a 10 per cent year over year growth, company said in a press statement on Sunday.
Sales of both brands in the last quarter of 2012 jumped an outstanding 42 per cent year over year, according to Larry Prein, Ford Middle East's managing director who is confident that the momentum will be equally strong for 2013.
In the UAE, Ford and Lincoln sales recorded an impressive 55 per cent growth owed largely to continued investments and expansion actions by the local importer-dealer, Al Tayer Motors. 2012 saw the dealership expand across Dubai and Fujairah with new sales and service outlets.
Passenger cars recorded a 38 per cent growth with best sellers such as the Taurus, Mustang, Fusion and Ford's all-new small car, Figo. Meanwhile, trucks and SUVs registered a whopping 55 per cent increase, driven by increased demand on Edge, Escape, Explorer, Expedition and F-Series trucks. Lincoln's new-gen crossovers, the MKX and MKT were also among the well-performing models in the UAE having achieved a three digit growth.
"2012 has truly been a landmark year for Ford in the region," Prein said. "We continued to drive growth aggressively across our markets thanks to the great new products we've introduced lately, and the tremendous support we've seen from our dealers. In the last quarter we've gained momentum as our supply got better.
"With this, we are geared up to start 2013 on a high note as we continue to be laser-focused on the One Ford plan and work with our dealers to further grow the business and introduce exciting models such as the all-new Ford Focus ST, Escape, Fusion and EcoSport, together with the all-new Lincoln MKZ, all of which are true to the One Ford promise," he added.
According to Ford Middle East's director of Sales, Thierry Sabbagh, Ford continued to witness increasing consumer preference throughout the region in 2012 as evidenced by the growing sales. "We've seen great demand on our new range of products last year," he explained.
"This is a remarkable testament to the success of the One Ford strategy of delivering what the customer wants. More and more customers realise and value the superiority of Ford products in terms of technology offerings, quality and craftsmanship, attractive dynamic design and great value for money.
"These important factors, coupled with the great offers from our dealers make owning a Ford vehicle a vote that our customers are going for with their wallets," Sabbagh added.
On the product front, the Ford Edge, Explorer, Expedition and F-150 led the truck and SUV regional sales which saw a 43 per cent increase in 2012 versus 2011. Ford and Lincoln passenger cars registered 40 per cent growth in retail sales – excluding the discontinued Ford Crown Victoria – with Focus, Fusion, Mustang and Taurus leading the pack.
In Saudi Arabia, overall sales were even year over year. However, excluding the impact of the Crown Victoria discontinuation, sales of the remaining vehicles grew by nearly 30 per cent, with strong performances across the range. Top sellers included the Expedition, Explorer, Edge, Flex, Taurus, Fusion, Focus and Figo.
As for Kuwait, the momentum was strong for 2012, with the Ford Focus, Mustang, Taurus achieving double digit growth while Edge, Flex, Explorer, Expedition, and the F-150 recording tremendous growth and contributing to a 50 per cent jump in the Ford SUV and truck sales in the country.
Ford also saw unprecedented growth in the remaining GCC markets where sales recorded an impressive increase of 107 per cent in Qatar, 42 per cent in Oman and 48 per cent in Bahrain.
"Overall, the momentum we gained together with our dealers in 2012 has been truly remarkable, setting a robust foundation for us to launch into 2013 from," concluded Prein. "We are confident that with the continued investments from our dealers, the great new product introductions from both the Ford and Lincoln brands coupled with aggressive customer-focused actions across the region, we will set yet another record performance in the Middle East."
Growing in the Middle East
Ford and its dealers continue to work towards more network expansions in the GCC, Levant and Iraq, whether in dealership facilities, service centers and parts distribution outlets. The company has over 20 new sales and service facilities in process region-wide to serve the ever growing customer base.
Additionally, Ford expects to increase the number of Quick Lane and Quick Parts outlets in the GCC, with 40 branches scheduled to be opened this year to help provide a wider reach for customer service and genuine Ford and MotorCraft spare parts.
The $53m Middle East Regional Parts Distribution Centre in Jebel Ali is already providing growing support the regional customer base and dealerships of Ford and Lincoln in the region.
Follow Emirates 24|7 on Google News.