Foreigners spend over Dh2.16bn during DSF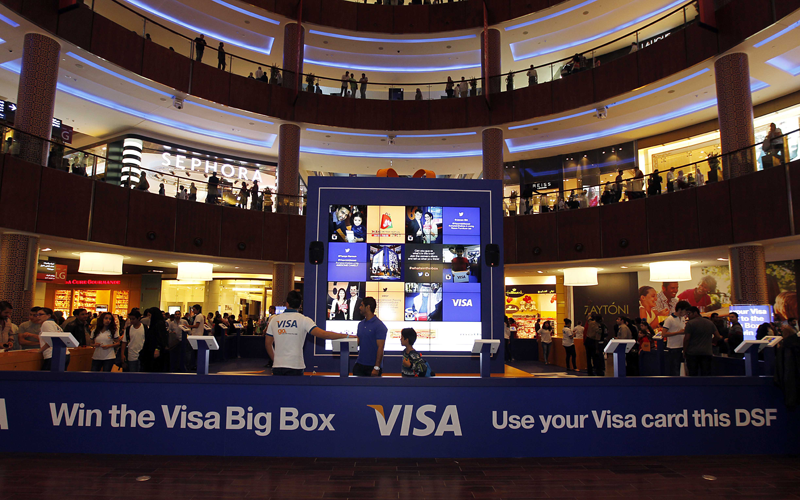 International visitors to the UAE spent over $589 million (Dh2.16 billion) on their Visa cards during the Dubai Shopping Festival (DSF) 2013, registering a 19 per cent year-on-year growth over DSF 2012, according to data issued by Visa Inc., the world's largest retail electronic payments networks and a lead sponsor of the region's premier shopping event.
The results collected by the company's VisaVue Travel data service indicated the month-long retail and shopping extravaganza got off to an excellent start, with spending on overseas-issued Visa cards in the first week of DSF touching $153.35 million [January 3-9, 2013]. The Friday of the first weekend of the sale [January 4, 2013] also witnessed record spending, with over $25 million spent on overseas Visa cards.
The data also revealed that cardholders from Russia, Kingdom of Saudi Arabia and the United Kingdom were the top spenders during DSF 2013, contributing in excess of $82 million, $66 million and $53 million respectively to the UAE economy. Visa cardholders from each of these countries showed significant increase in spending compared to DSF 2012, with Russians spending 34 per cent more on their Visa cards compared to last year's sale, while Saudis spent 26 per cent more than DSF 2012.
Like the last DSF, other retail spending continued on top of merchant categories, with more than $200 million spent during the month-long event. 'Lodging' (hotels and apartments) came in second place with over $138 million spent; while 'Remaining merchants' which includes ATM withdrawal, 'Other travel and entertainment' and 'Department stores' completed the top five spending segments, with over $92 million, $41 million and $22 million spent respectively on their Visa cards.
These international Visa cardholders, along with local shoppers, also had the opportunity to participate in Visa's Big Box promotion, which offered consumers unique opportunities and multiple chances to win an exciting range of prizes. This was the biggest-ever campaign for Visa in this sponsorship to mark its 18th year of partnership with DSF as a key sponsor.
At the end of DSF, Visa unveiled the secret grand prize -- the amazing "Visa Festivals of the World" – which was concealed within the Big Box at The Dubai Mall. The grand prize offers a holiday of a lifetime for two people to experience – the Rio de Janeiro Carnival, the Venice Carnival, Chinese New Year in Hong Kong, Macys Thanksgiving Parade in New York and the Sydney Festival.
"The record Visa card usage during DSF 2013 reinforces the growing popularity of the retail extravaganza among international shoppers. As one of the key sponsors of DSF, Visa is committed to further enhancing this shopping experience and cementing Dubai's reputation as a premier shopping destination to positively impact the UAE economy," said Marcello Baricordi, General Manager for Visa in UAE.
"Our Big Box promotion during DSF 2013 generated unmatched excitement among the shoppers in Dubai. Visa has always believed in creating rewarding lifestyle experiences for its cardholders and our grand prize was aimed at further building on this unique experience with Visa," he added.
Visa has sponsored the leading shopping and entertainment event since its inauguration in 1996. As the official payment partner of DSF, Visa has the ideal platform to educate shoppers about the convenience and security of electronic payments while simultaneously rewarding them with value added prizes.
The top inbound spending countries during DSF 2013 were:
Follow Emirates 24|7 on Google News.