Get ready for Gitex Shopper Spring bargains by month-end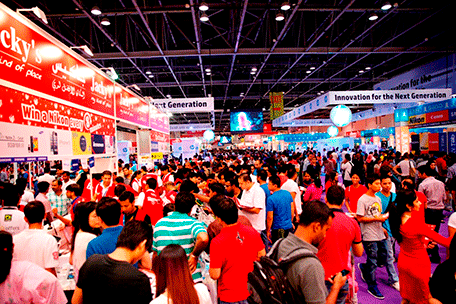 The region's largest consumer IT and electronics show, Gitex Shopper Spring 2016 is set to return later this month with exciting deals across the broadest range of consumer tech products.
Shopper Smart Living also returns for its second year – a dedicated section offering visitors the chance to discover the latest smart home appliances, automation technology, smart security systems, energy conservation and more.
Taking place from March 30 to April 2, 2016, at the Dubai World Trade Centre (DWTC) from 11am to 11pm, Gitex Shopper Spring 2016 and Shopper Smart Living cater for the region's increasing demand for home appliances and consumer tech products, driven by a fast growing local and regional population, a considerable appetite for the latest consumer electronics and the growing trend for smart connectivity in everyday business and leisure life.
One of the top 10 fastest growing markets in the world in terms of volume growth, the UAE market for home appliances is estimated to grow by 150% in sales between 2008 and 2019, and be worth Dh4 billion by 2017. The mobile phone sector is equally fast-growing, with sales of almost 3.2 million smartphone devices recorded in 2015 – an increase in retail volume growth of 9% over the previous year.
"With new technologies being adopted around the world, the need is for all devices – from mobile devices to home appliances - to be faster, smarter, more efficient, convenient and easier to use. Gitex Shopper Spring and Shopper Smart Living will offer consumers the smartest one stop shop for all their needs, whether for work, leisure or home," said Trixie LohMirmand, Senior Vice President, Dubai World Trade Centre (DWTC).
"Not only will major power retailers and leading international brands be showcasing their latest products at the show, but they'll collectively be offering more special deals under one roof than anywhere else in the region."
Among the top retailer offering good deals will be Emex, Jacky's Electronics, Jumbo Electronics, Plug Ins and Sharaf DG, as well as a host of top global tech brands showcasing new products as well as the latest product ranges.
Neelesh Bhatnagar, CEO of Emax said: "Gitex Shopper is the most highly anticipated tech bonanza in the region and we are delighted to be returning. This year, we promise visitors outstanding offers and promotions on the latest tech products and innovations. The show is not to be missed and we look forward to delighting the region's tech-savvy shoppers."
Gitex Shopper's most popular and well-loved raffles, promotions and competitions will generate their traditional buzz this year, while a number of new competitions and show features will give visitors exciting new opportunities to compete – both behind the gaming console and in the kitchen!
Tickets are Dh25 per person, include access to both Gitex Shopper Spring and Shopper Smart Living and are available at the venue and select Zoom outlets. Entry is Dh10 per student for groups of 50 and above.
Follow Emirates 24|7 on Google News.