Gulf Air orders Airbus and Boeing aircraft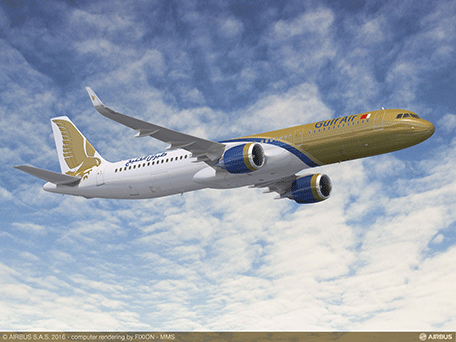 Gulf Air has ordered 45 Airbus and Boeing aircraft at the Bahrain International Show as part of its fleet renewal programme.
The airline announced order of 29 Airbus A320neo aircraft which includes 17 A321neo and 12 A320neo of which 10 A320neo were confirmed in 2012.
The contract was signed today at the Bahrain International Airshow between Maher Salman Al Musallam, A/Chief Executive Officer, Gulf Air and Fabrice Brégier, Airbus President and Chief Executive Officer, in the presence of Kamal bin Ahmed Mohammed, Minister of Transportation and Telecommunications, Kingdom of Bahrain and Matthias Fekl, Minister of State for Foreign Trade, the Promotion of Tourism and French Nationals Abroad.
Gulf Air currently operates 28 Airbus aircraft.
Maher Salman Al Musallam said: "This restructured order meets Gulf Air's future fleet requirement and our network expansion plans. As a result, I now look forward to furthering Gulf Air's fleet modernization process while supporting our network and overall passenger experience enhancement strategies."
Fabrice Brégier said: "The fuel efficient aircraft will provide the airline with a higher operational efficiency and profitability while its wider cabins will open a new dimension of passenger appeal."
With nearly 4,500 orders received from some 80 customers since its launch in 2010, the A320neo Family has captured a 60 per cent share of the market.
Gulf Air will also secure 16 Boeing 787-9 Dreamliners under a restructured order worth $4.2 billion, the Bahraini carrier said in a statement on Thursday.
The 787-9s are scheduled to be delivered from the second quarter of 2018 and will replace 16 Boeing 787-8s which had been ordered previously, according to the statement which did not give details about the previous order.
Bahrain's national carrier has gone through a lengthy restructuring which aims to return the loss-making airline to profit. It reported an annual loss of 62.7 million dinars ($166.3 million) for 2014, down from a loss of 93.3 million dinars in 2013.
Follow Emirates 24|7 on Google News.