Gulf Craft eyes emerging markets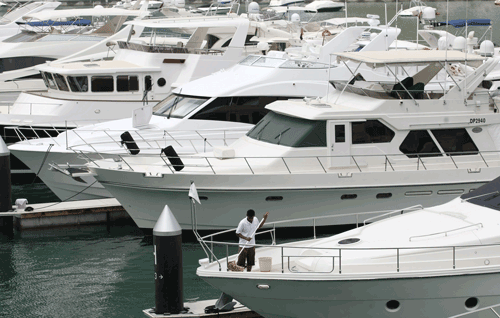 Gulf Craft, the largest Gulf Arab yacht maker, projects modest sales growth in 2011 but hopes a new emerging market elite will spur its luxury boat business, its chief executive said.
The UAE is home to some of the most exclusive harbours in the world. In the Dubai Marina, residents of luxury apartments look out onto a sea of gleaming yachts, while neighbouring emirate Abu Dhabi has been holding an annual yacht show showcasing the latest superyachts since 2009.
Chief Executive Nasser al-Shaali said Gulf Craft's sales could rise by as much as 15 per cent in 2011, but that there was a risk that there could be no growth at all.
"We are very cautious for 2011 because we see indications of a double-dip. We see also indications of dwindling corporate reserves in the GCC (Gulf Cooperation Council). In 2011, we have the prospects of more bankruptcies coming our way," he said.
Shaali said 2010 had been a good year for the company, whose main competitors are Italy's Ferretti and Benetti, two of the world's most exclusive yacht brands.
Sales soared by as much as 40 per cent, boosted by a rebound in the luxury sector that was largely helped by clients who had pre-crisis plans to buy luxury goods and who returned to the market with the first signs of recovery, he said.
But the global financial crisis hit some Gulf Arab countries hard and, like elsewhere in the world, left behind some major changes to the business environment. Shaali said the whole customer base of luxury markets is undergoing a shift.
"The changing dynamic of the luxury buyers is very interesting. Luxury markets in London, in the south of France, have been boosted from buyers from emerging countries more than even buyers in developed countries," Shaali told Reuters.
Around half of Gulf Craft's customers were from Gulf Arab countries, among them members of the region's ruling families, businessmen and celebrities. Most of the new demand was coming from Asia, Shaali said.
Gulf Craft sells fishing boats from Dh47,000 ($12,800), but one of its top-of-the-range Majesty yachts can set you back as much as Dh62 million.
Gulf Craft's biggest yacht model, a 135 footer, was sold to a customer from the Gulf last year. It has a 20-person dining capacity and three kitchens.
Follow Emirates 24|7 on Google News.