Gulf markets slide as oil hits fresh low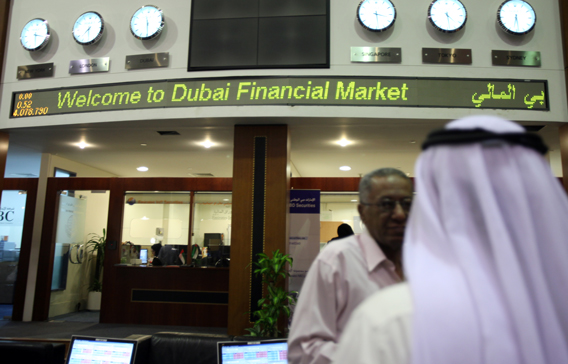 Gulf stock markets extended their declines in broad sell-offs on Monday as the price of Brent crude oil fell below $55 per barrel for the first time since 2009.

Brent futures tumbled more than 3 per cent as data showed that Russian oil output and Iraq's oil exports had hit their highest levels in decades.

Saudi Arabia, Dubai and Oman have announced large state budgets in the past couple of weeks, suggesting that lower oil revenues will not translate into spending cuts and that economic growth in the region will stay strong.

But weak crude prices continue to affect the sentiment of the retail investors who dominate local stock markets.

Saudi Arabia's main index dropped 3.0 per cent as shares in petrochemicals giant Saudi Basic Industries (Sabic) tumbled 4.6 per cent. Profits in the petrochemical sector are particularly vulnerable to cheap oil.

However, Sabic unit Saudi Arabia Fertiliser Co (Safco) outperformed the sector, trading in the black for most of the day and closing only 1.0 per cent down after the company's board recommended a bonus share issue of one share for each outstanding four shares.
The bonus issue offset news of a disappointing dividend; Safco's board proposed a cash dividend of 3 riyals per share for the second half of 2014, down from 6 riyals a year earlier. That would make the total 2014 payout 7 riyals while analysts polled by Reuters had expected, on average, 9.6 riyals, down from 12.0 riyals in 2013.

UAE

Dubai's index dropped 3.4 per cent as all but a handful of stocks fell.

Bahrain's Gulf Finance House (GFH), cross-listed in Dubai, was one of the few gainers, jumping 3.4 per cent after the company said it had won a $11.5 million legal case pertaining to its investment in a Qatari firm.
A court in Bahrain has also dismissed a $13.8 million case filed against GFH by former chairman Essam Janahi, who resigned in 2013, it said in a separate statement.

Shares in utility firm Tabreed added 2.8 per cent after it said on Monday it had completed the refinancing of debt facilities worth Dh2.6 billion ($708 million), confirming a report by Reuters on Sunday.

According to bourse data, foreigners from outside the Arab world were net sellers of Dubai on Monday.

"We think that negative sentiment towards emerging market asset classes continues through January," Standard Bank analyst Demetrios Efstathiou said in a note, citing data that showed emerging market funds saw outflows in the final week of 2014.

"Strong dollar, very weak commodity prices and renewed fears about a Greek exit from the euro will affect sentiment towards emerging markets."

Abu Dhabi's index edged down 0.5 per cent as Aldar Properties, the emirate's biggest listed developer, dropped 3.6 per cent and telecommunications firm Etisalat lost 0.5 per cent.

Qatar's bourse lost 1.9 per cent in another broad sell-off, while Oman and Kuwait edged down 0.7 and 0.8 per cent respectively.

Egypt's market remained more upbeat and the Cairo index edged up 0.8 per cent. As an energy importer, Egypt stands to benefit from cheaper oil, and bidding wars for local companies such as Bisco Misr and Arab Dairy Products have underscored growing interest in local equities.

"Overall, some foreign investors seem to perceive this to be an ideal time, in order to be favourably exposed to Egypt's fundamental dynamics being on a path of recovery," Cairo-based Naeem brokerage said in a note.

Swiss-listed Orascom Development Holding AG said on Monday it had sold a 15 per cent stake in its Egyptian subsidiary, Orascom Hotels and Development, for 506.1 million pounds ($70.78 million) and a public offer for those shares was 3.8 times oversubscribed.

MONDAY'S HIGHLIGHTS

DUBAI
The index dropped 3.4 per cent to 3,566 points.

ABU DHABI
The index edged down 0.5 per cent to 4,430 points.

SAUDI ARABIA
The index dropped 3.0 per cent to 8,107 points.

QATAR
The index fell 1.9 per cent to 11,996 points.

EGYPT
The index edged up 0.8 per cent to 9,011 points.

KUWAIT
The index fell 0.8 per cent to 6,497 points.

OMAN
The index fell 0.7 per cent to 6,312 points.

BAHRAIN
The index slipped 0.3 per cent to 1,422 points.


Follow Emirates 24|7 on Google News.