Gulf shares rebound; snub oil slide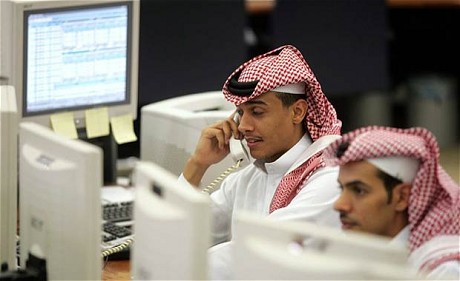 Stock markets in the Gulf states edged higher on Wednesday, putting an end to days of decline off the back of sliding oil prices and a gloomy global outlook.

Barring the markets in Oman and Bahrain, which dropped slightly, the Gulf bourses posted gains led by exchanges in Dubai and Abu Dhabi.

Analysts put the gains down to attractive prices on stocks whose value has plummeted in recent weeks.

"This was the main reason for the rebound today," Mohammed Zidan, chief market strategist at Kuwait-based Orbex Brokerage, told AFP.

He said the buying was done by 'big investors' flocking to 'underpriced' shares.

The Dubai Financial Market (DFM) Index rose 4.4 per cent to close on 3,600.33 points, supported by market leaders Emaar Properties and Arabtec Construction.

Abu Dhabi Securities Exchange added 2.4 per cent to finish on 4,414.27 points.

It was the first time this year that both Dubai and Abu Dhabi exchanges had posted gains.

The Saudi Tadawul All-Shares Index rose 0.94 per cent to 8,133.39 points.

Qatar Exchange also gained 0.73 per cent to close on 11,898.18 points.

Kuwait Stock Exchange added 0.4 per cent to end the day on 6,423.21 points.

Oman and Bahrain bourses dropped 0.41 per cent and 0.09 per cent respectively.

On Wednesday, the US benchmark West Texas Intermediate (WTI) for delivery in February fell 73 cents to $47.20 -- a low not seen since April 2009.

Brent for February dropped $1.05 to $50.05. At one point in afternoon trade it had fallen below $50 for the first time since May 2009.

Follow Emirates 24|7 on Google News.