Half of Mideast consumers use mobile to access Web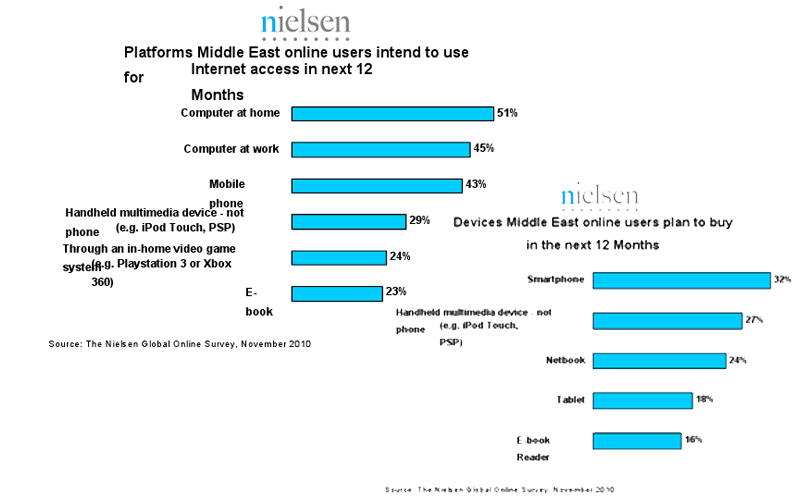 Almost half of the Middle East's online consumers (43 per cent) plan to use a mobile phone to access the Internet while 29 per cent intend to use a handheld multimedia device and 24 per cent plan to access the net via an in-home video game system, said The Nielsen Company survey.
To help the Middle East's advertising market understand and take advantage of this level of intended activity, The Nielsen Company has added a new module to its Market Intelligence solution to capture Internet access from various connected devices.
In addition to understanding audience visitation from PCs and laptops, the "Device Filtering" module now enables subscribers to see how audiences are accessing the Internet through devices such as Smartphones, games consoles, e-books and tablets.
"We've gone beyond who's simply visiting mobile websites. The advertising industry will now be able to differentiate between the multitude of devices from which people are accessing content on conventional sites", explains Nielsen's head of new online EMEA markets, Diego Semprún.
"Consequently, our clients will be able to make better data-driven decisions that improve their media strategies that reflect the new reality of Internet access and take advantage of these new opportunities."
This new reality is reinforced by the intention of online consumers in the Middle East to purchase connected devices that can access the Internet.
More than one-third intend to purchase a Smartphone (32 per cent) or handheld multimedia device (27 per cent) in the coming year, while 24 per cent intend to purchase a Netbook.
Follow Emirates 24|7 on Google News.