India's Axis Bank aims to expand rep offices in UAE, region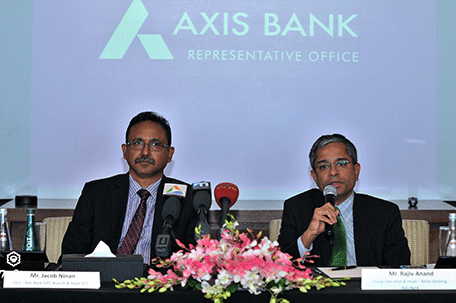 India's Axis Bank is looking to expand its operations in the UAE and other regional countries by opening more rep offices, a senior official said in Dubai on Thursday.
Rajiv Anand, Group Executive & Head, Retail Banking, Axis Bank, said they're looking at opening rep offices in Sharjah and also entering in Bahrain.
The Indian bank, which has presence in the UAE for nine years, currently operates in Dubai International Financial Centre under a Category I licence and also runs a rep office in Abu Dhabi.
Axis Bank has already established its presence through branches in Singapore, Hong Kong, Colombo and Shanghai, Representative Offices at Dubai and Abu Dhabi, Dhaka and Axis Bank UK Limited.
The bank has applied for more rep offices and is awaiting regulatory approval.
The lender, which has a balance sheet of $6 billion, is focused on corporate lending and trade finance mainly with Indian entities operating in the UAE and tapping the remittances from the non-resident Indians.
"We'll continue our focus on what we are doing now – lending and trade finance with Indian corporates based in the UAE. We'll also be looking to increase remittances business in partnership with our partners," Anand said, adding that the "bank continues to expand its partner network across the GCC region with specific focus on getting into more arrangements with correspondent banks while continuing to actively manage our large existing Exchange House relationships. This has resulted in a robust growth of 26 per cent over the past 3 years in remittance volumes from UAE and we shall continue to look at growing aggressively for FY16-17 as well."
The lender's remittances business totalled nearly $2.6 billion in the GCC region last year.
"GCC and Africa form a significant part of the Bank's business. Through own offices in Dubai and Abu Dhabi and through business tie ups with other banks elsewhere, Axis Bank covers the region extensively," Anand said.
Follow Emirates 24|7 on Google News.